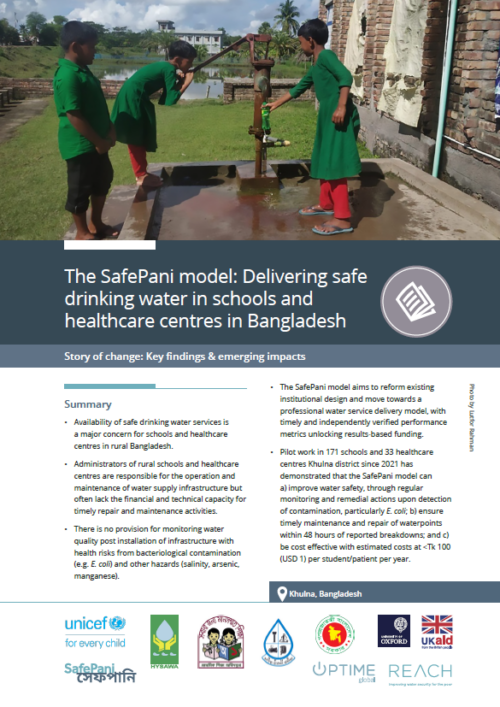 Availability of safe drinking water services is a major concern for schools and healthcare centres in rural Bangladesh. A 2022 REACH survey of 1700 schools in Khulna district found tubewells and rainwater harvesting to be the main sources o.f drinking water, with 15% of schools having no drinking water sources on premises.
In rural schools, individual administrators are responsible for monitoring water safety post installation of waterpoints. Limited funds, training, time, and autonomy can hinder timely repair and maintenance of infrastructure and pose uncertain water quality risks.
To address the expanded focus of SDG 6.1 for schools and healthcare centres, REACH has been working with UNICEF and the Local Government Division (LGD) of the Government of Bangladesh to design and pilot a revised institutional model for rural water service delivery. The SafePani model aims to reform existing institutional design and move towards a professional water service delivery model, with timely and independently verified performance metrics unlocking results-based funding.
Kelly Ann Naylor, Associate Director, Water, Sanitation and Hygiene (WASH) Section, Programme Division, UNICEF
'Our partnership with REACH recognises science has a critical role in designing and delivering effective policy and improving practice on the ground.'
Stay in touch
School of Geography and the Environment
University of Oxford
South Parks Road
Oxford, OX1 3QY