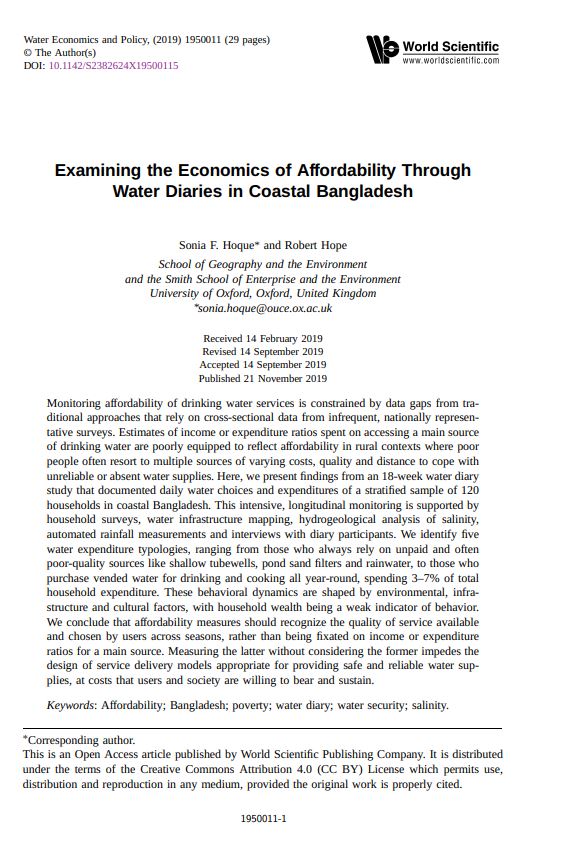 Authors: Sonia Hoque and Rob Hope
Monitoring affordability of drinking water services is constrained by data gaps from traditional approaches that rely on cross-sectional data from infrequent, nationally representative surveys. Estimates of income or expenditure ratios spent on accessing a main source of drinking water are poorly equipped to reflect affordability in rural contexts where poor people often resort to multiple sources of varying costs, quality and distance to cope with unreliable or absent water supplies.
This research present findings from an 18-week water diary study that documented daily water choices and expenditures of a stratified sample of 120 households in coastal Bangladesh. This intensive, longitudinal monitoring is supported by household surveys, water infrastructure mapping, hydrogeological analysis of salinity, automated rainfall measurements and interviews with diary participants. We identify five water expenditure typologies, ranging from those who always rely on unpaid and often poor-quality sources like shallow tubewells, pond sand filters and rainwater, to those who purchase vended water for drinking and cooking all year-round, spending 3–7% of total household expenditure. These behavioral dynamics are shaped by environmental, infrastructure and cultural factors, with household wealth being a weak indicator of behavior.
We conclude that affordability measures should recognize the quality of service available and chosen by users across seasons, rather than being fixated on income or expenditure ratios for a main source. Measuring the latter without considering the former impedes the design of service delivery models appropriate for providing safe and reliable water supplies, at costs that users and society are willing to bear and sustain
Kelly Ann Naylor, Associate Director, Water, Sanitation and Hygiene (WASH) Section, Programme Division, UNICEF
'Our partnership with REACH recognises science has a critical role in designing and delivering effective policy and improving practice on the ground.'
Stay in touch
School of Geography and the Environment
University of Oxford
South Parks Road
Oxford, OX1 3QY