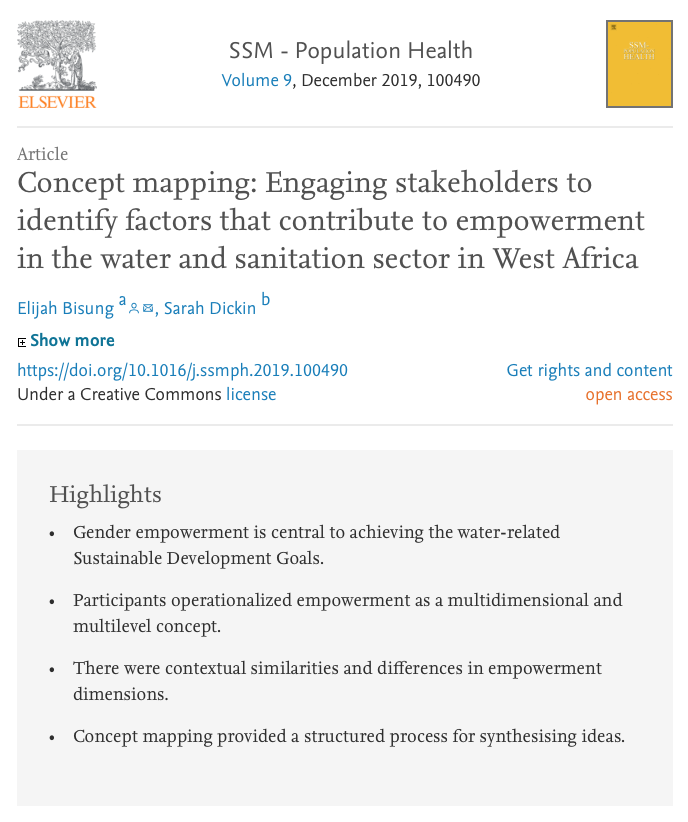 Authors: Elijah Bisung and Sarah Dickin
There is growing awareness that addressing the gender inequalities related to WASH that many women and girls face on a daily basis must go beyond focusing on delivery of infrastructure and facilities alone and include attention to issues of empowerment. Yet there is limited exploration of how the concept of empowerment is defined and applied in the WASH sector and thus limited information on how it could be measured.
This study used concept mapping to uncover the meaning and key dimensions of empowerment in WASH among 34 and 24 stakeholders in Asutifi North District, Ghana, and Banfora Commune, Burkina Faso, respectively. The study was part of initial steps toward choosing indicators for developing an Empowerment in WASH Index.
Kelly Ann Naylor, Associate Director, Water, Sanitation and Hygiene (WASH) Section, Programme Division, UNICEF
'Our partnership with REACH recognises science has a critical role in designing and delivering effective policy and improving practice on the ground.'
Stay in touch
School of Geography and the Environment
University of Oxford
South Parks Road
Oxford, OX1 3QY