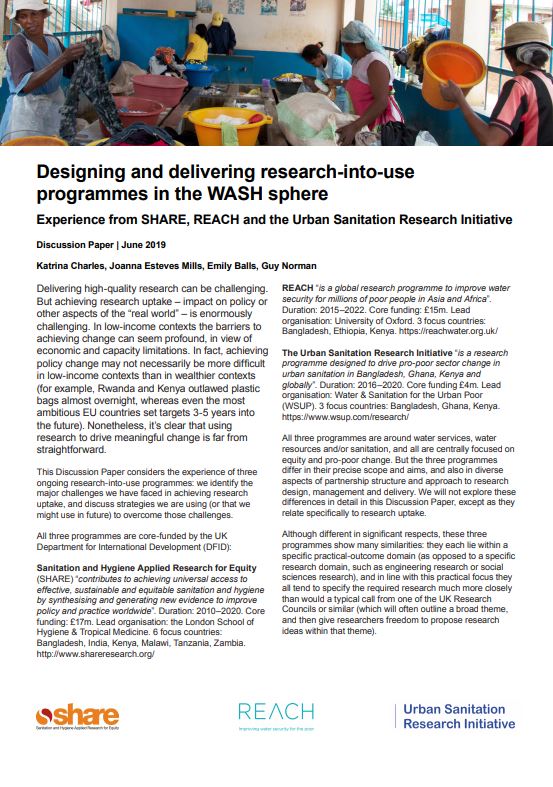 Authors: Katrina Charles, Joanna Esteves Mills, Emily Balls, Guy Norman
Delivering high-quality research can be challenging. But achieving research uptake – impact on policy or other aspects of the "real world" – is enormously challenging. In low-income contexts the barriers to achieving change can seem profound, in view of economic and capacity limitations. In fact, achieving policy change may not necessarily be more difficult in low-income contexts than in wealthier contexts (for example, Rwanda and Kenya outlawed plastic bags almost overnight, whereas even the most ambitious EU countries set targets 3-5 years into the future). Nonetheless, it's clear that using research to drive meaningful change is far from straightforward.
This Discussion Paper considers the experience of three ongoing research-into-use programmes (REACH, SHARE and USRI): we identify the major challenges we have faced in achieving research uptake, and discuss strategies we are using (or that we might use in future) to overcome those challenges.
Kelly Ann Naylor, Associate Director, Water, Sanitation and Hygiene (WASH) Section, Programme Division, UNICEF
'Our partnership with REACH recognises science has a critical role in designing and delivering effective policy and improving practice on the ground.'
Stay in touch
School of Geography and the Environment
University of Oxford
South Parks Road
Oxford, OX1 3QY