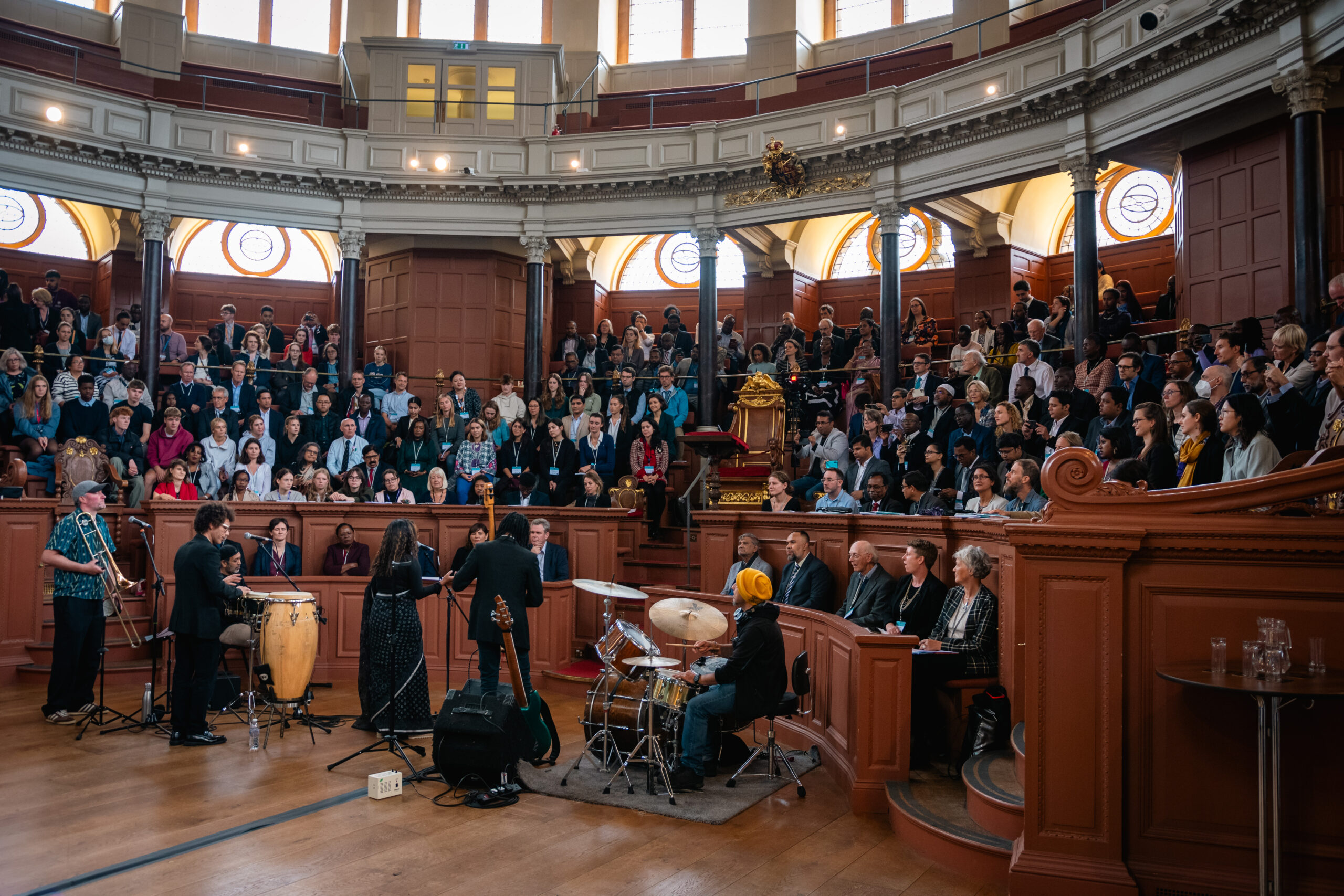 20 October 2023
Recordings from the REACH International conference 20-22 September now available
The REACH conference "Within REACH: A Water Secure World" took place at Oxford's Sheldonian Theatre and Examination Schools from 20th to 22nd September 2023. An inclusive range of speakers – 50% women, 50% speakers from Africa and Asia, 1/3 early career researchers – brought global leaders from governments, industry and development agencies into fascinating discussions around scaling up water security, climate resilience and adaptation, gender inequalities, sustainable finance and more, building on REACH's Stories of Change.
Thank you to the UK Foreign, Commonwealth & Development Office, the Conrad N. Hilton Foundation and the Oxford Martin School for their support for the conference and associated events.
And thank you to all our team and all the presenters, panellists, and participants from governments, UNICEF, NGOs and academia, who joined and led conversations to shape more effective responses to bring water security within reach. We are pleased to share recordings from the plenary sessions, and look forward to sharing more of our reflections on the conference in the coming weeks.
View more photos from the conference here
Session Recordings
Opening session and high-level panel – Weds 20th September
Session outline:
Welcome – Professor Irene Tracey, Vice-Chancellor, University of Oxford
Reflections from the UK Foreign, Commonwealth & Development Office – Professor Charlotte Watts, Chief Scientific Adviser, UK Foreign Commonwealth & Development Office
Within Reach – Professors Katrina Charles, School of Geography and the Environment, University of Oxford and Rob Hope, Smith School of Enterprise and the Environment, University of Oxford, REACH Programme Directors
High-level Panel: Water Security Risk and Poverty
Chair: Professor Katrina Charles, University of Oxford
• HE Mr Muhammad Abdul Mannan, Minister of Planning, Government of Bangladesh
• Hon. Ms Alice Muthoni Wahome, Cabinet Secretary for Water, Sanitation and Irrigation, Government of Kenya
• Dr Ana Gren, Senior Program Manager Specialist, Sida, and Senior Climate Change specialist, World Bank
• Dr Peter Harvey, Regional WASH & Environment Adviser, South Asia, UNICEF
• Professor Tassew Woldehanna, President, Addis Ababa University
Keynote – Mr Md. Emdadul Hoq Chowdhury, Additional Secretary, Local Government Division, Government of Bangladesh
Musical performance: LokKhi Terra
Climate Plenary – The Search for Clarity on Future Climate – Weds 20th September
Session outline: The climate system imposes stresses on development, potentially jeopardising investment and efforts towards the SDGs. Climate science has responded with a concerted push to quantify climate change, especially in the form of extremes, hazards and risks. This session showcases some of the remarkable progress made by REACH and the FCFA programme. We will also ask how current climate science approaches respond to adaptation challenges and climate-related vulnerabilities and how future research agendas might contribute to greater impact in a changing climate.
Chairs: Dr Ellen Dyer and Dr Callum Munday, University of Oxford
Panel:
• Dr Rachel James, University of Bristol
• Ms Patricia Nying'uro, Kenya Meteorological Department
• Professor Daniel Olago, University of Nairobi
• Dr Louise Wilson, UK Foreign Commonwealth and Development Office
Rural Water Finance Plenary – Thurs 21st September
Session Outline: Rethinking financial flows and policy reform to ensure safe drinking water in rural areas are necessary to achieve and sustain water security outcomes. The economic, health and social costs are well rehearsed for the two billion people without safe drinking water today. In response, governments and enterprise are testing new approaches in Africa and Asia to adapt to increasing climate, fiscal and public health risks.
The session aims to: (1) Characterise the conditions for, and experience of, government funding for rural water supply, (2) Determine pathways to increase long-term funding from non-traditional resources, (3) Identify how development funding can transition to more sustainable models to reduce social inequalities.
Introductions:
• Professor Rob Hope, REACH programme Director, University of Oxford
Keynotes:
• Mr L.K. Atheeq, Government of Karnataka, India
Panel discussion:
• Ms Iris Braun, share
• Dr Duncan McNicholl, Uptime Global
• Mr James Origa, World Bank
• Ms Kie Riedel, Conrad N. Hilton Foundation
Closing Session – Friday 22nd September
Session Outline: Water security is recognised as a defining local and global challenge for economies, the environment and human welfare. Governments, private sector and civil society have launched a myriad missions, commissions, programmes and projects with billions of dollars of funds and finance over the last decade. What is working, for whom, and why? What is not working and what action should be taken over the next decade? This session provides critical reflections and perspectives, based on the evidence and insights from some of these initiatives, to shape the agenda for the decade to come.
Panel discussion:
• Mr Kitka Goyol, UNICEF East and Southern Africa Region
• Professor Quentin Grafton, UNESCO Chair of Water Economics, Australian National University
• Dr Rachael McDonnell, Deputy Director General – Research for Development, IWMI
• Ms Debashree Mukherjee, Secretary, Department of Water Resources, Ministry of Jal Shakti, India
• Dr Rebecca Peters, International Water Policy Advisor, US Department of State
• H.E. Augustine Wambua, Deputy Governor, Kitui County Government, Kenya
Closing remarks: The Rt Hon. the Lord Patten of Barnes KG CH, Chancellor University of Oxford