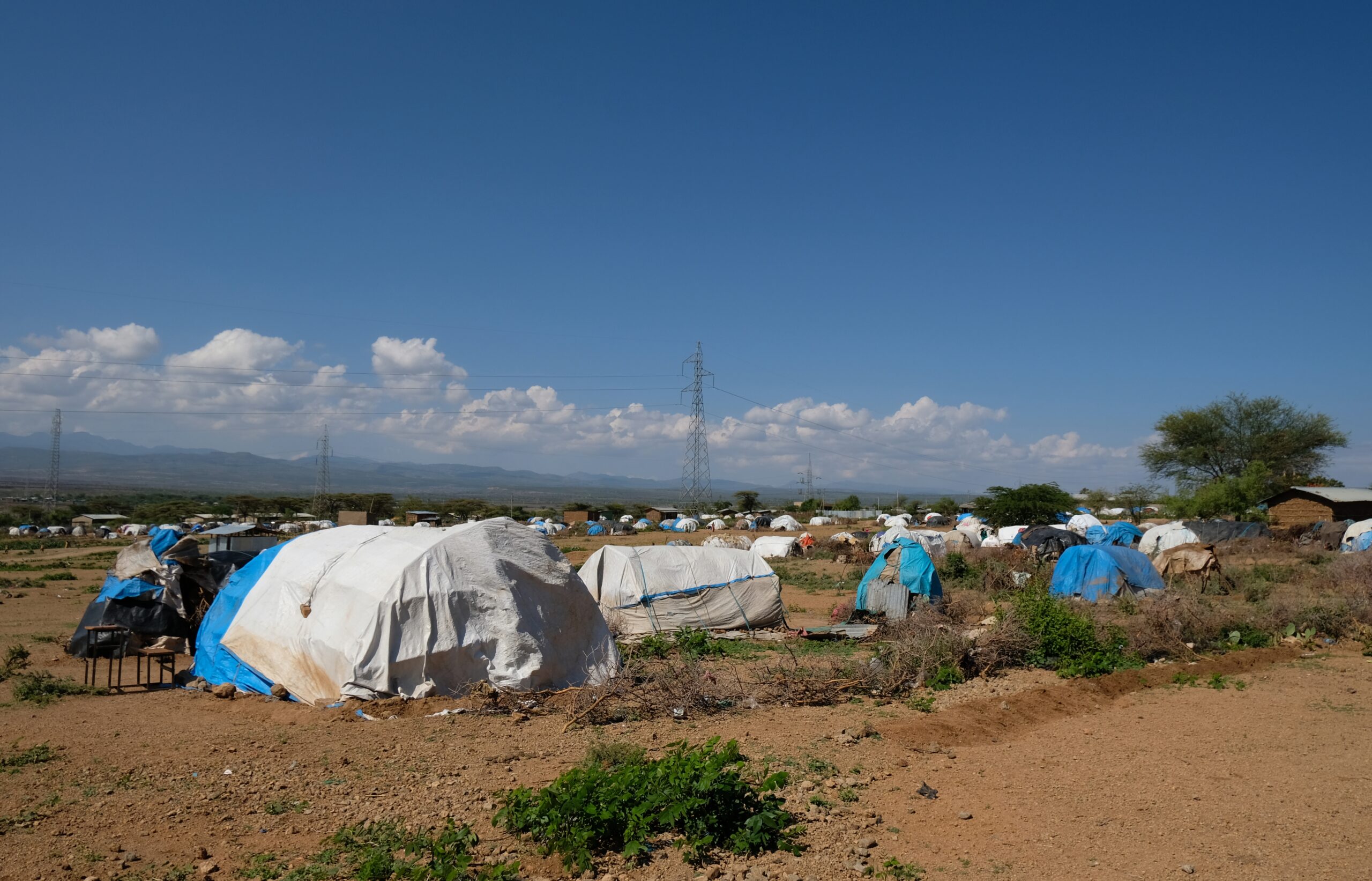 7 November 2023
Invisibility of the most vulnerable people in water and WASH? – Advancing the Agenda to Leave No One Behind
Dr Marina Korzenevica, Post-doctoral researcher in the REACH programme
Reflections from the REACH conference "Within REACH" – A Water Secure World" panel session: "Unpacking Processes of Care and Dependencies: Extreme Water Vulnerability in Bangladesh, Ethiopia and Kenya". Opinions and indirect quotes from the panellists (listed in alphabetic order): Andy Bastable (Oxfam), Md Emadul Hoq Chowdhury (Joint Secretary, PSB, Local Government Division, Bangladesh), Kitka Goyol (UNICEF), Fahreen Hossain (Bangladesh University of Engineering and Technology), Mercy Mbithe (University of Nairobi), Nathan K. Vungo (Kitui County Government)
Extremely vulnerable people are invisible to the broader community and policymakers. They rely on water care from a few, though their basic water needs are not met. This is a challenge that needs to be addressed for truly universal WASH policy design and implementation.
Leave No One Behind (LNOB) is the "central, transformative promise" of the 2030 Agenda for Sustainable Development and its Sustainable Development Goals (SDGs), which seeks to combat discrimination and rising inequalities. Gender-based discrimination is a deep-seated source of social inequality worldwide. However, the "left behind" also includes those facing additional layers of marginalization due to the intersection of gender, age, disability (which affects 1.3 billion people worldwide), economic status, health status, mental health, race, religion, caste, geographic location, migrant status, nationality, statelessness, sexual orientation, criminalisation, being of a minority ethnicity or linguistic group, occupation, emergency-affected status and/or way of life (UNICEF, 2021). There are many country-specific examples of vulnerable groups of people– like the floating population in Bangladesh.
In the REACH WISER collaboration, we have been seeking to understand the situation of the most vulnerable people in our study areas. Within our study, we define them as people who depend on others for water provision regularly. One of the largest categories here are people who are physically challenged by diseases, impairment, or age; however, the condition by itself usually does not define the vulnerability; it is typically coupled with social isolation, extreme poverty, political vulnerability (like internally displaced people in Ethiopia), social stigma (like single mothers in rural Kenya), and failing water infrastructure (such as those affected by poorly maintained handpumps). We see the very vulnerable rely on other people for water care daily, sometimes sharing sincere intimate links, but at other times being treated as a burden by those providing the care. In the majority of cases, these people suffer from critical water insufficiency and the inability to perform basic water chores that get worse during seasonal water scarcity, hazards, or water supply challenges. In some cases, people get as little as one bucket of drinking water for eight days.
Progress and Challenges in the "Leave No One Behind" Agenda
In the unanimous adoption of Resolution 70/1 on the SDGs in 2015, the UN Heads of State and Government and High Representatives pledged to "reach the furthest behind first". In practice, we see that addressing the most vulnerable is usually considered the "last mile". While water and WASH programmes have become more inclusive of gender inequalities, as reflected by the recent WHO/UNICEF Joint Monitoring Program review of measures and indicators for gender in WASH, strategies for the inclusion and consideration of particularly vulnerable people are much less advanced. The UNICEF guidance note on Leave Noone Behind published in 2021, is one of the most comprehensive reports so far; however, this topic deserves and requires much more attention.
Addressing people with special needs is not only expensive but is also very complex and challenging. Policymakers on our panel mentioned that a lack of comprehensive guidance, a lack of resources, and the demands of political administration are great barriers to progress. It is further complicated by the fact that cases are very contextual and diverse, ranging from a concentrated group of refugees to people with individual needs within the community. Within REACH WISER, we have seen that the very vulnerable are usually invisible – even to other people in the same community – and at times they can be severely distressed, often due to water challenges.
Towards transformative action
At the conference, several of our panellists agreed that one of the first steps is to ensure the visibility of various forms of vulnerability, and it is essential that this is done through the creation of platforms by which marginalised voices can be heard at different scales: in the community, national and international. The REACH WISER research has been at times transformative for people as we started to raise awareness about the vulnerabilities in the communities. Moreover, as practitioners on the panel remarked, through working with vulnerable people, we can become dull to suffering and accept it as the status quo. The reawakening of empathy is crucial.
Inclusive technologies can aid in the progress of reducing marginalisation through accessible infrastructure. This can be seen in Disaster Risk Reduction initiatives in the example of cyclone shelters in Bangladesh that are arranged at schools with a special effort to ensure that people with different physical limitations can access them. Currently, many types of waterpoints involve steps and the necessity of considerable physical strength to operate. A forward-looking policy plan aims to address these challenges, however, implementation and monitoring are going to be challenging. We need to ask critically what kind of longitudinal data are relevant for this purpose.
The water sector should go beyond technological fixes and aim for transformative changes: in power structures within the community, empowerment, representation, and vocalisation of the marginalized communities as well as strengthening their resilience during water shocks. Practitioners mentioned cases of women-led community initiatives to identify and alleviate vulnerabilities through recognition of special conditions, e.g., water payment relief. It indicates that the involvement of the community is essential for successful progress, however, this does not mean that we should rely solely on the existing social capital. Not only does this place an additional burden on carers who may be vulnerable themselves, but it is also insufficient. How can we support communities without burdening them? – it remains an open question.
To conclude, there are a lot of achievements that should be recognised, but equally, we should continue developing sustainable solutions to leave no one behind in the water.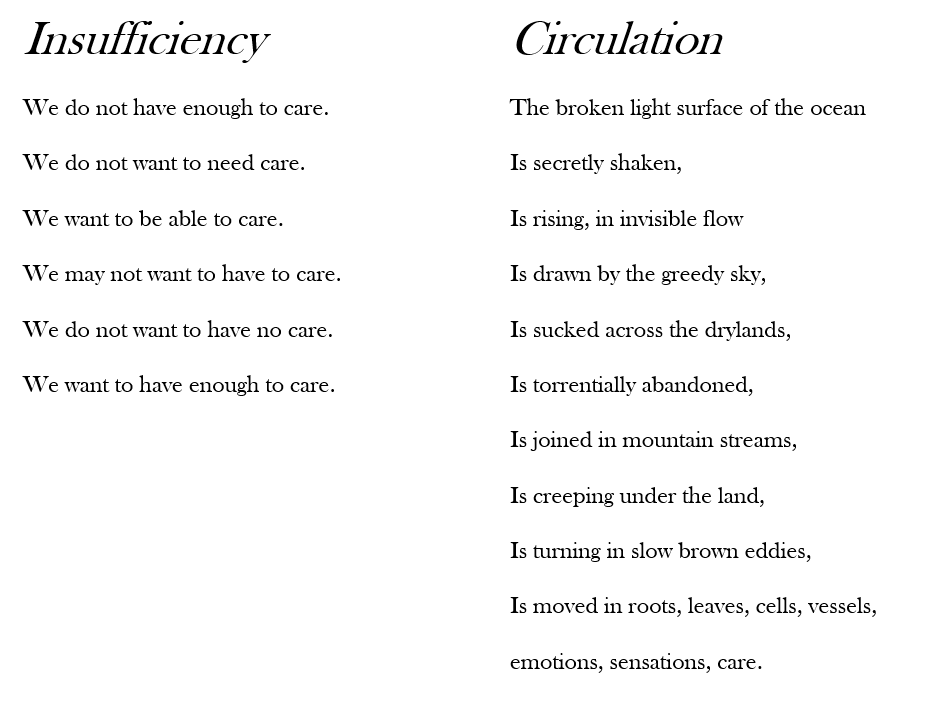 Poems by Nancy Gladstone, in response to REACH conference sessions on climate processes and water care