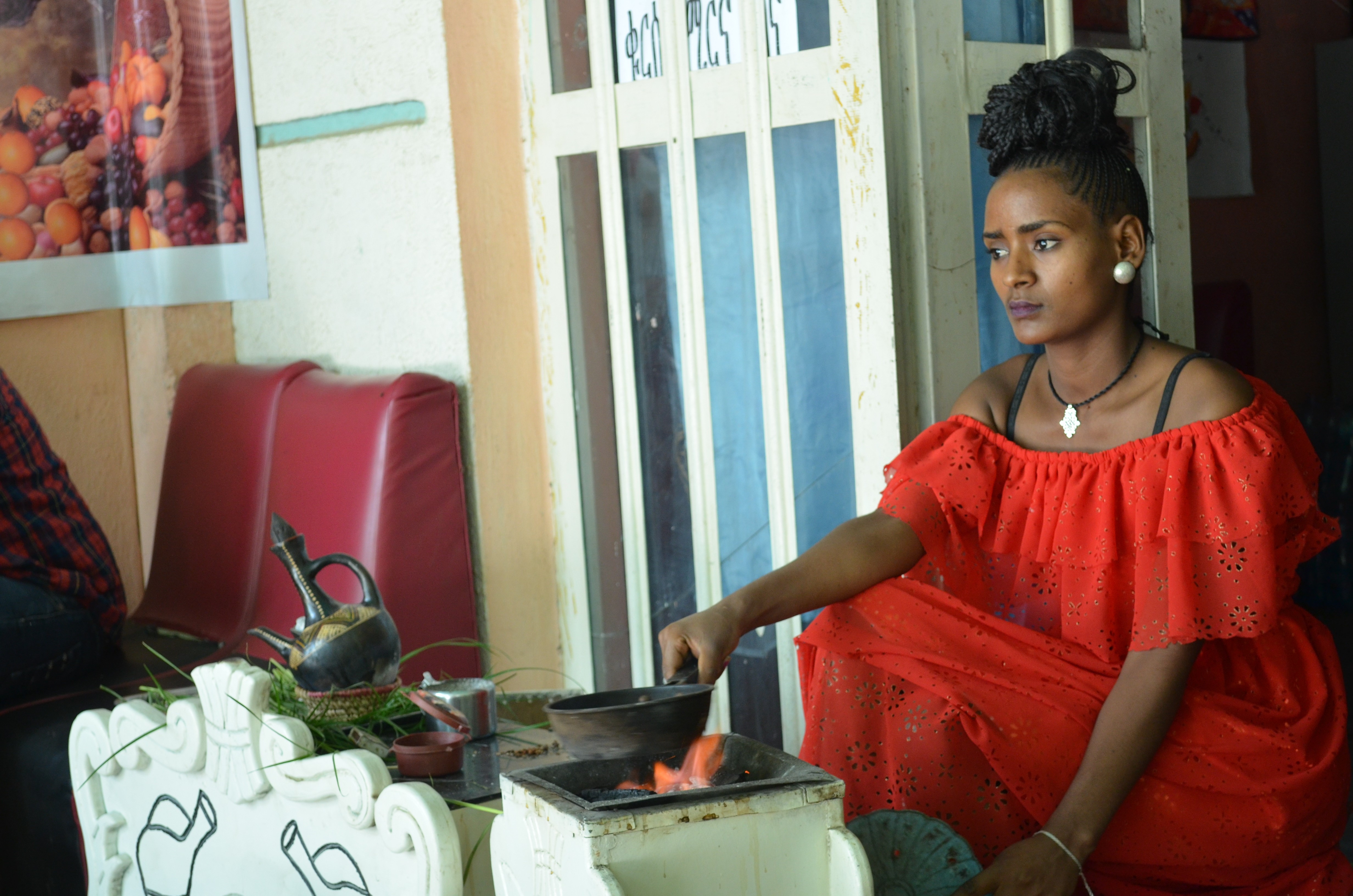 27 January 2020
ECR Feature | Does entrepreneurship mean empowerment for young women bunabéts (coffee house) owners in Wukro, Ethiopia?
Zoë Johnson, SEEK Development
Zoë Johnson recently completed an MPhil in Development Studies at Oxford's Department of International Development. Her research, located in Wukro, Ethiopia, focused on young women who own bunabéts (coffee houses). It critically explored how processes of social, economic, and political change in Ethiopia shape young women's perceptions of their own opportunities.
Using life herstories interviews and participant observation conducted with bunabét owners, Zoë endeavours to portray young women's subjective experiences of 'development' and to unravel the ways that these young women think about themselves and conceptualise the constraints they face.
How does your research relate to REACH?
Wukro is the site of REACH's 'small town pathways to water security' observatory, located in the drought-prone highlands of Tigray region, Ethiopia. The small town is growing rapidly, in part as agriculturally-based livelihood activities are becoming more difficult to sustain. In addition, the government's decision to turn Wukro into a 'conference centre' has encouraged the construction of hotels and other infrastructure. As previously discussed by REACH colleagues, water availability in Wukro is seasonal and vulnerable to climatic events and the population faces a number of challenges related with water access and use.
So far, the process of urbanisation in Ethiopia has been correlated with an increase in the number of women engaged in micro and small-scale enterprises (MSEs), many of which require water. Wukro in particular — given its population growth and the expansion in infrastructure — is considered a lucrative place to open a coffee house. All along Wukro's main road, stools spilling out onto the thoroughfare are crowded with professionals on break from one of the many conferences hosted at the city's hotels.
"Coffee houses are now 'in fashion.' It is fashionable for women to open these businesses. Previously, women had two choices: give birth or work in the home. The number of people who want to drink coffee outside of the home is increasing. For example, young men from university campuses, they get used to drinking coffee outside the home." (Interview respondent)
Why is your research relevant and important in the Ethiopian context?
The categories of 'woman' and 'youth' are central to Ethiopia's plans for 'progress'. In the country's most recent Growth and Transformation Plan for example, women and youth are grouped together as two categories of people in need of particular attention from the development establishment, yet the policy does not contain any provisions for young women who exist at the intersection of these two categories.
Entrepreneurship through MSEs is one strategy advanced by the Government of Ethiopia, to engage youth and women in the process of development. In Wurko, bunabéts are MSEs owned and operated exclusively by young women. While on the one hand, their emergence is reflective of changing times and gender relations, the practices performed within bunabéts (such as the coffee ceremony) are firmly rooted in longstanding traditions and gender roles. These spaces offer a lens into the complex interplay between societal patterns beyond their borders, and self-making occurring within them.
The women working in the coffee houses in Wukro represent just one small and heterogeneous group living out the realities of this period of social, political, and economic change. Their stories can nonetheless contribute to our understandings of the gendered dimensions of 'youth' and 'development' in Ethiopia in the context of rapidly developing urban spaces.
"Young people only want to own a business, so they'll do everything to get there." (Interview respondent)
"If you open a bunabét, people think that you don't have any dreams. You are not respected. I hate this business, it is a very bad business. I am doing it only because I don't have any other option." (Interview respondent)
What have been some of the findings for your research?
The stories of bunabét owners reveal the ways in which 'growth and transformation' are deeply ambivalent. Discourses around what it means to be a 'woman' and a 'youth' in Ethiopia are being reshaped in this period of change. As a result, the identities that can be associated with each of these categorisations are being re-defined.
Entrepreneurship is often portrayed as a means of 'empowerment', as a way people can change the meaning of gender and the way in which gender is lived, and as a mechanism for bringing marginalised youth into the mainstream of economic activities. My research suggests that there are some ways in which these narratives hold true; however, there are other ways in which, by engaging in entrepreneurship, young women are subjected to different types of disciplining discourses that constrain them in different ways.
These discourses are grounded in age-old tropes regarding the threat of female independence and sexual promiscuity. Therefore, entrepreneurship in this context serves to preserve the meaning of gender and the way in which gender is lived. Furthermore, rather than bringing young women into the mainstream of economic activities, bunabét work creates pressures for women to engage in 'illicit' trades such as sex work.
"Everyone in Wukro thinks that if you open a coffee house, it is because you're doing the 'other business.' Men are often asking you to spend the night together." (Interview respondent)
"You have to be careful about how you look and present yourself. You can make a lot [of profit] by wearing short skirts, sitting with them [the men], drinking with them, letting them hug you, but the costs outweigh the benefits. I try to be intact in my outfit, wearing longer dresses" (Interview respondent)
What aspects of your research are you particularly excited about?
As a woman in academia, surrounded by many brilliant female peers and mentors, one can forget the erasure of female experience that persists in many dimensions of knowledge production. Despite the increasing acknowledgment that gender matters, in many contexts there has yet to be a serious interrogation of the ways in which women's exclusion has changed the very foundation of our understandings of how the world works.
For example, generational categories are assumed to include all genders, however, young women's experiences have had a much less significant impact on the development of theories of 'youth'. In Ethiopia, this exclusion has serious policy implications. Young women very often fall through the cracks that exist between policies and programmatic responses on children's rights, youth rights, and women's rights.
I am excited about this research because I think that by telling the life herstories of young women, we can begin to understand the ways in which they think about themselves — their circumstances, their societies, their relationships, their horizons, in all of their complexity and diversity. In sharing these stories, we can legitimate women's narratives (as told by women themselves) as valuable sources of knowledge. I believe that this is a fundamental starting point for promoting inclusive and transformative development.