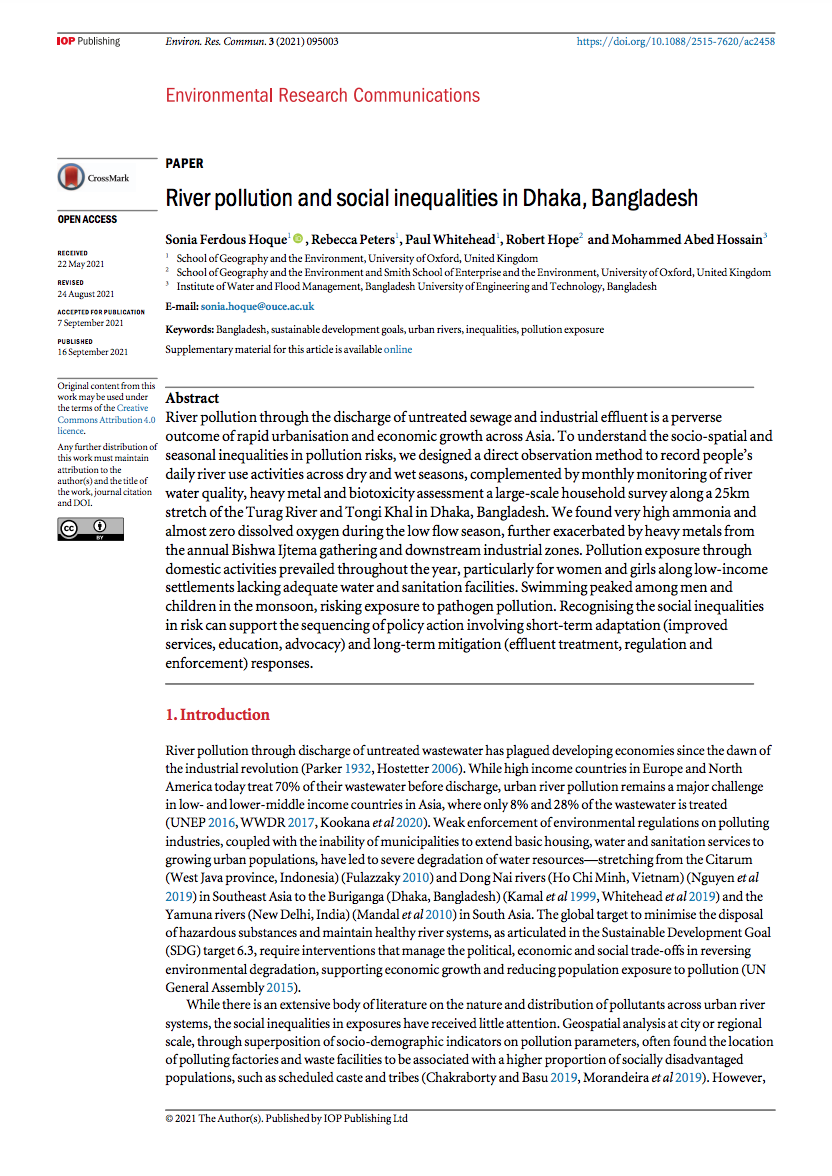 Authors: Sonia Ferdous Hoque, Rebecca Peters, Paul Whitehead, Robert Hope and Mohammed Abed Hossain
River pollution through the discharge of untreated sewage and industrial effluent is a perverse outcome of rapid urbanisation and economic growth across Asia. This study seeks to understand the socio-spatial and seasonal inequalities in pollution risks. The authors designed a direct observation method to record people's daily river use activities across dry and wet seasons, complemented by monthly monitoring of river water quality, heavy metal and biotoxicity assessment a large-scale household survey along a 25km stretch of the Turag River and Tongi Khal in Dhaka, Bangladesh.
They found very high ammonia and almost zero dissolved oxygen during the lowflow season, further exacerbated by heavy metals from the annual Bishwa Ijtema gathering and downstream industrial zones. Pollution exposure through domestic activities prevailed throughout the year, particularly for women and girls along low-income settlements lacking adequate water and sanitation facilities. Swimming peaked among men and children in the monsoon, risking exposure to pathogen pollution. Recognising the social inequalities in risk can support the sequencing of policy action involving short-term adaptation (improved services, education, advocacy) and long-term mitigation (effluent treatment, regulation and enforcement) responses.
Kelly Ann Naylor, Associate Director, Water, Sanitation and Hygiene (WASH) Section, Programme Division, UNICEF
'Our partnership with REACH recognises science has a critical role in designing and delivering effective policy and improving practice on the ground.'
Stay in touch
School of Geography and the Environment
University of Oxford
South Parks Road
Oxford, OX1 3QY