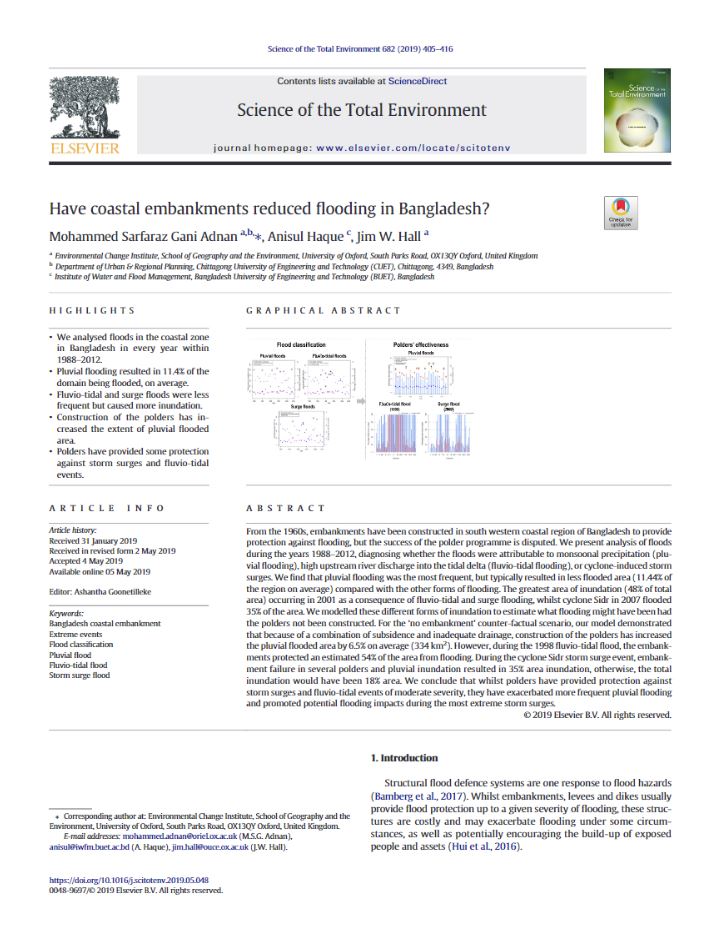 Authors: Mohammed Sarfaraz Gani Adnan, Anisul Haque, Jim W.Hall
From the 1960s, embankments have been constructed in south western coastal region of Bangladesh to provide protection against flooding, but the success of the polder programme is disputed. The authors present analysis of floods during the years 1988–2012, diagnosing whether the floods were attributable to monsoonal precipitation (pluvial flooding), high upstream river discharge into the tidal delta (fluvio-tidal flooding), or cyclone-induced storm surges. They find that whilst polders have provided protection against storm surges and fluvio-tidal events of moderate severity, they have exacerbated more frequent pluvial flooding and promoted potential flooding impacts during the most extreme storm surges.
Click on the button below to access the Author Accepted Manuscript. You can also access the published version of the article on the Science of the Total Environment website.
Kelly Ann Naylor, Associate Director, Water, Sanitation and Hygiene (WASH) Section, Programme Division, UNICEF
'Our partnership with REACH recognises science has a critical role in designing and delivering effective policy and improving practice on the ground.'
Stay in touch
School of Geography and the Environment
University of Oxford
South Parks Road
Oxford, OX1 3QY