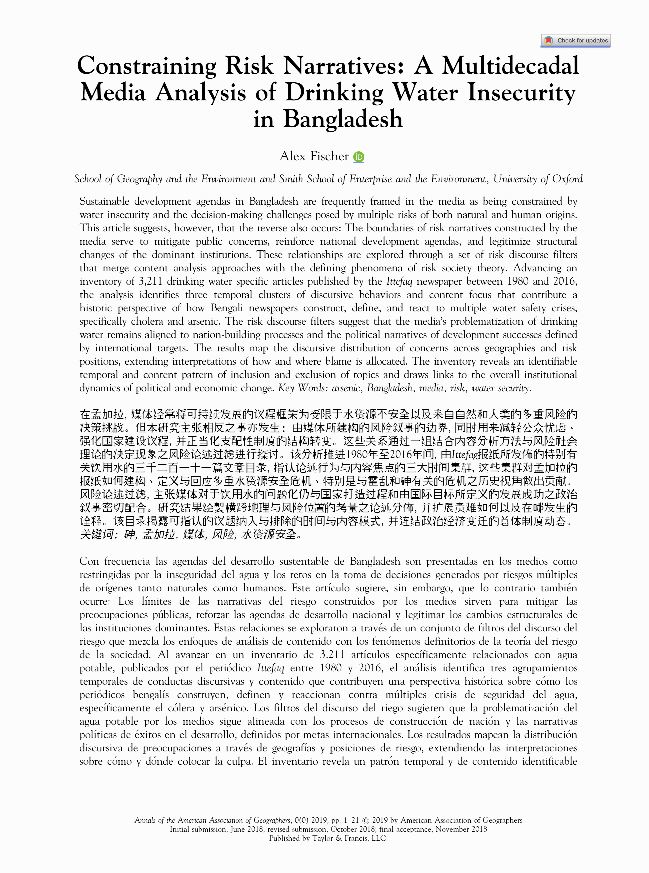 Author: Alex Fischer
Sustainable development agendas in Bangladesh are frequently framed in the media as being constrained by water insecurity and the decision-making challenges posed by multiple risks of both natural and human origins. This article suggests, however, that the reverse also occurs: The boundaries of risk narratives constructed by the media serve to mitigate public concerns, reinforce national development agendas, and legitimize structural changes of the dominant institutions. These relationships are explored through a set of risk discourse filters that merge content analysis approaches with the defining phenomena of risk society theory. Advancing an inventory of 3,211 drinking water specific articles published by the Ittefaq newspaper between 1980 and 2016, the analysis identifies three temporal clusters of discursive behaviors and content focus that contribute a historic perspective of how Bengali newspapers construct, define, and react to multiple water safety crises, specifically cholera and arsenic. The risk discourse filters suggest that the media's problematization of drinking water remains aligned to nation-building processes and the political narratives of development successes defined by international targets. The results map the discursive distribution of concerns across geographies and risk positions, extending interpretations of how and where blame is allocated. The inventory reveals an identifiable temporal and content pattern of inclusion and exclusion of topics and draws links to the overall institutional dynamics of political and economic change.
You can access the article via the Annals of the American Association of Geographers journal by click on the link below, or you can read the open access Author Accepted Manuscript here.
Kelly Ann Naylor, Associate Director, Water, Sanitation and Hygiene (WASH) Section, Programme Division, UNICEF
'Our partnership with REACH recognises science has a critical role in designing and delivering effective policy and improving practice on the ground.'
Stay in touch
School of Geography and the Environment
University of Oxford
South Parks Road
Oxford, OX1 3QY