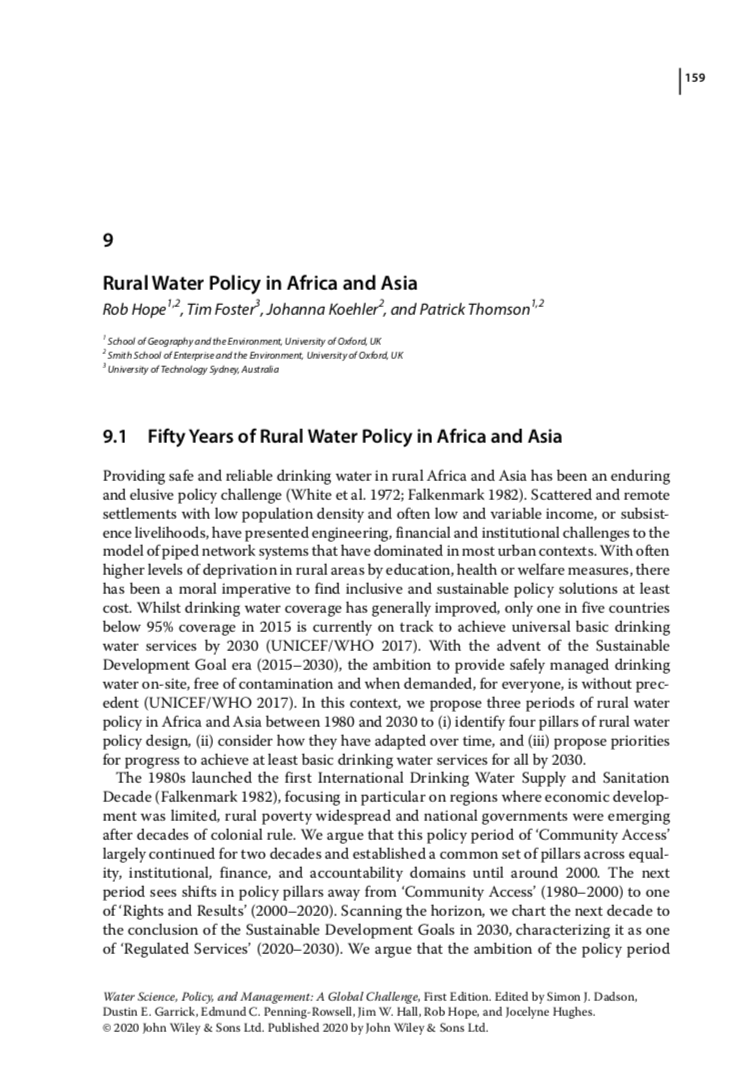 Authors: Rob Hope, Tim Foster, Johanna Koehler, Patrick Thomson
Universal delivery of improved drinking water services in rural Africa and Asia has been an enduring policy challenge for decades. Whilst drinking water coverage has generally improved, only one in five countries below 95% coverage in 2015 is currently on track to achieve basic drinking water services for all by 2030.
The auhors identify and evaluate three periods of rural water policy in Africa and Asia between 1980 and 2030 to (i) identify four pillars of rural water policy design, (ii) consider how they have adapted over time, and (iii) propose priorities for progress.
They argue for an increase in investments in designing and testing emerging institutional models for rural water services to evaluate the trade‐offs in performance across institutional, financial and operational dimensions. Stronger empirical evidence will allow policy and planning to balance and negotiate short‐term political goals with long‐term sector sustainability for the benefit of the poor.
This book chapter was published in 'Water Science, Policy and Management: A Global Challenge', edited by Simon James Dadson, Dustin E. Garrick, Edmund C. Penning-Rowsell, Jim W. Hall, Rob Hope, Jocelyne Hughes and published by Wiley.
Kelly Ann Naylor, Associate Director, Water, Sanitation and Hygiene (WASH) Section, Programme Division, UNICEF
'Our partnership with REACH recognises science has a critical role in designing and delivering effective policy and improving practice on the ground.'
Stay in touch
School of Geography and the Environment
University of Oxford
South Parks Road
Oxford, OX1 3QY