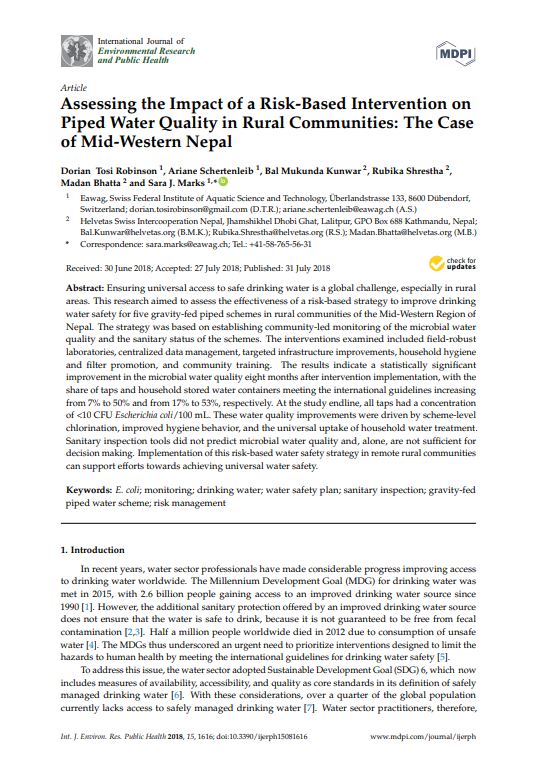 Authors: Dorian Tosi Robinson, Ariane Schertenleib, Bal Mukunda Kunwar, Rubika Shrestha, Madan Bhatta and Sara J. Marks
Ensuring universal access to safe drinking water is a global challenge, especially in rural areas. This research aimed to assess the effectiveness of a risk-based strategy to improve drinking water safety for five gravity-fed piped schemes in rural communities of the Mid-Western Region of Nepal. The strategy was based on establishing community-led monitoring of the microbial water quality and the sanitary status of the schemes. The interventions examined included field-robust laboratories, centralized data management, targeted infrastructure improvements, household hygiene and filter promotion, and community training. The results indicate a statistically significant improvement in the microbial water quality eight months after intervention implementation, with the share of taps and household stored water containers meeting the international guidelines increasing from 7% to 50% and from 17% to 53%, respectively. At the study endline, all taps had a concentration of <10 CFU Escherichia coli/100 mL. These water quality improvements were driven by scheme-level chlorination, improved hygiene behavior, and the universal uptake of household water treatment. Sanitary inspection tools did not predict microbial water quality and, alone, are not sufficient for decision making. Implementation of this risk-based water safety strategy in remote rural communities can support efforts towards achieving universal water safety.
This journal article was published in the International Journal of Environmental Research and Public Health.
Kelly Ann Naylor, Associate Director, Water, Sanitation and Hygiene (WASH) Section, Programme Division, UNICEF
'Our partnership with REACH recognises science has a critical role in designing and delivering effective policy and improving practice on the ground.'
Stay in touch
School of Geography and the Environment
University of Oxford
South Parks Road
Oxford, OX1 3QY