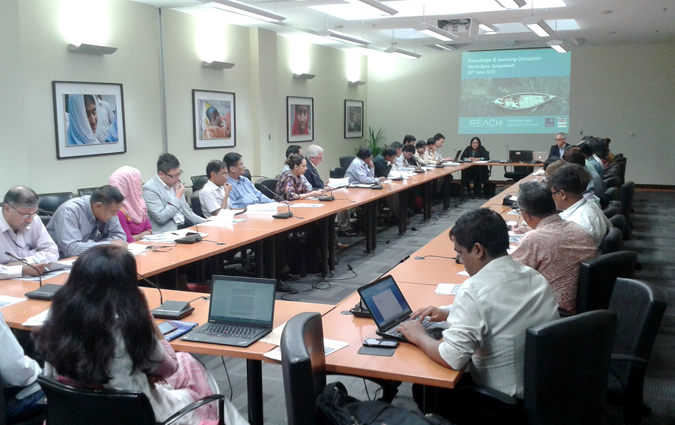 2 July 2015
REACH meets the World Bank in Bangladesh
On 30 June 2015 Oxford University researchers and Bangladesh country partners met with World Bank staff for a knowledge and learning discussion on 'Improving water security for the poor'.
The World Bank is active in Bangladesh with a coastal embankment improvement project to protect vulnerable coastal populations from flooding and natural disasters.
At the meeting in Dhaka, Programme Director Dr Rob Hope gave an overview of REACH, followed by an address by the Department for International Development Bangladesh Office.
Partner organisations presented research topics currently being explored as candidate Water Security Observatories in the REACH programme:
Professor Sirajul Islam, International Centre for Diarrhoeal Disease Research, Bangladesh (icddr,b): water security risk metrics in Matlab
Professor Mashfiqus Salehin, Bangladesh University of Engineering and Technology (BUET): water security and agriculture in Barind
Dr Mahbuba Nasreen (Dhaka University): coastal water security risks in Khulna
Dr Mohammad Monirul Alam (UNICEF): the Dhaka Garment Industry
You can read more about the candidate Water Security Observatories in the presentation below.
Recent posts
Categories
Archives
Kelly Ann Naylor, Associate Director, Water, Sanitation and Hygiene (WASH) Section, Programme Division, UNICEF
'Our partnership with REACH recognises science has a critical role in designing and delivering effective policy and improving practice on the ground.'
Stay in touch
School of Geography and the Environment
University of Oxford
South Parks Road
Oxford, OX1 3QY