30 March 2022
Professionalized maintenance of rural water services: Four findings from Kitui County, Kenya
Dr Tim Foster (University of Technology Sydney) and Nancy Gladstone (SSEE, University of Oxford)
This post is based on 10 years of research from Kitui County, Kenya, supported by the REACH programme, the USAID Sustainable WASH Systems Learning Partnership, UNICEF, ESRC and UKAID – read the policy brief here.
Extended breakdowns of rural water services are common across Africa, producing risk and inconvenience for users. Compared to water systems under the usual model of community management, a professionalized maintenance service in Kitui County is reducing average repair times from one to two months to two days or less.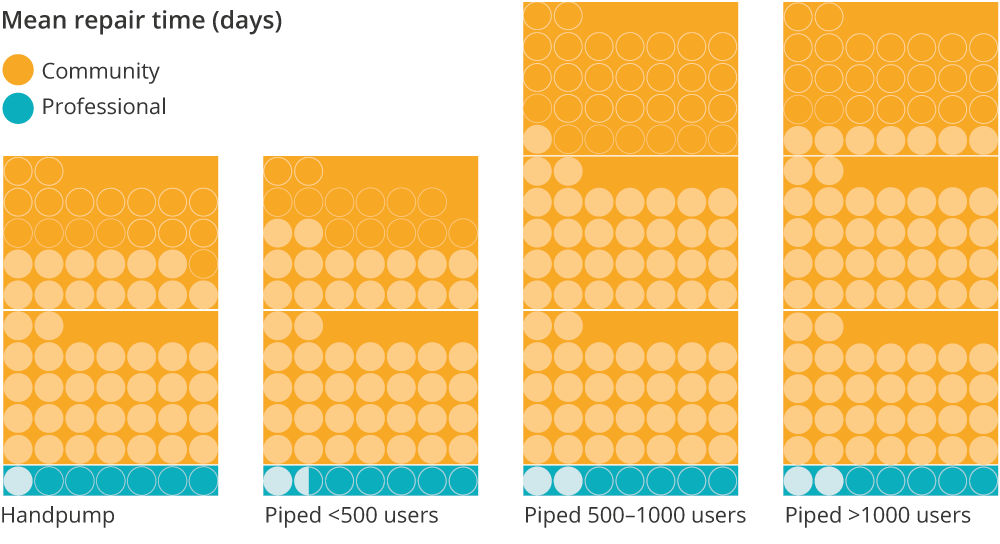 A new analysis of data from the county points to the wider social and economic benefits of investment in professionalized maintenance that flow from faster repairs.
1. Professionalized maintenance makes capital investments work harder and longer
When rural water infrastructure is managed by communities, household spending on alternative water sources due to breakdowns in supply can be as much as the initial capital costs of the infrastructure. Professional maintenance greatly reduces these costs over the infrastructure's lifetime, generating greater returns from the capital expenditure and ensuring people have regular water. Wider benefits relate to climate risks and gendered impacts.
2. Professionalized maintenance can help buffer climate risks
Drought events increase socio-economic hardship, particularly for handpump users with only a few days of water storage. For handpump users, spending on alternative sources of water in the dry season increases by up to USD 0.38 per day, equivalent to 6–14% of daily household expenditure. These costs can be avoided if water services are well-maintained.
3. Professionalized maintenance can reduce water collection burden on women and girls
Research from Mwingi North, a sub-county of Kitui, suggests that people are commonly spending more than an hour on trips to collect water and that men are involved in water collection in less than a third of households. This implies that women are likely to bear the vast majority of time costs of collecting water from alternative sources during long breakdowns. Professionally maintained water systems can reduce this burden.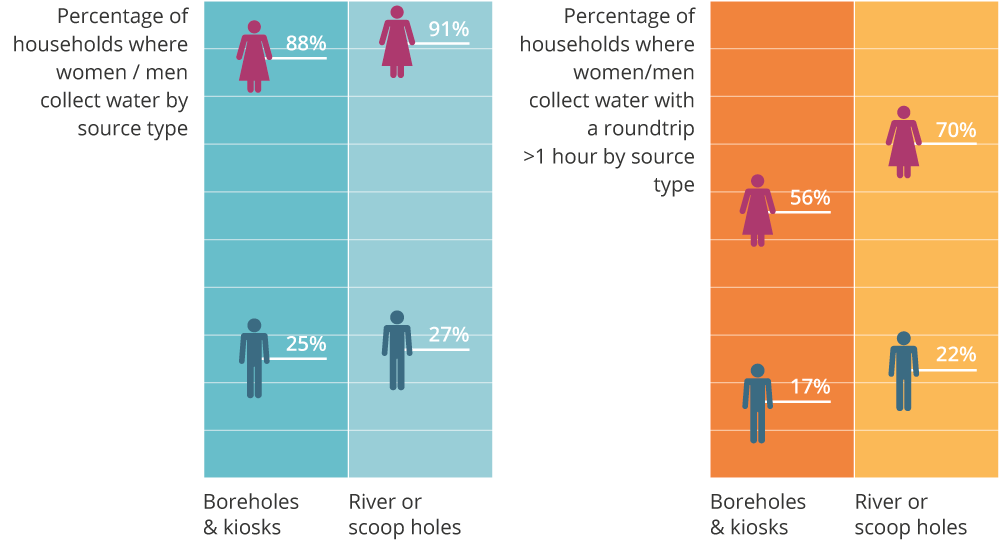 4. Professionalized maintenance benefits poorer water users
Low-expenditure households relying on handpumps tend to store less water at home than wealthier households, suggesting that these households have to resort sooner to unsafe or more expensive alternative sources. During dry season breakdowns, low-expenditure households spent a greater proportion of their daily outgoings on alternative water sources. Investing in rural water maintenance can benefit poorer households by reducing their spending on alternative water sources.
Professionalized maintenance costs donors less and benefits the people who rely on rural water infrastructure more. Implementation of the model across Africa will require major institutional change and accountable coordination between government, donors, and NGOs.