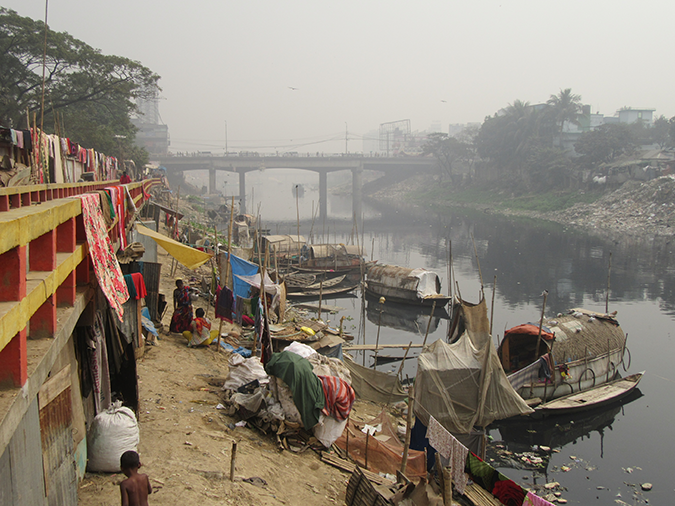 16 February 2017
Life on the banks of a polluted river
Dr Sonia Ferdous Hoque, Oxford University
During the past few decades, millions of poor people have migrated to Bangladesh's capital city in search of work at the hundreds of ready-made garment (RMG) factories located along the Turag River.  The rapid growth of the RMG industry – the largest export revenue earner for Bangladesh – has significantly boosted the country's economic growth. However, at the same time, rampant discharge of untreated waste has polluted the Turag to such an extent that it is jeopardising the water security and health of workers and communities living on the riverbanks.
Our recent visit to low-income settlements along the Tongi Khal, the most polluted section of the Turag, revealed the hardships experienced by people who lack access to safe water for their daily drinking and domestic needs. Groundwater from deep boreholes, provided either by the local government or non-government organisations, is often the main source of water. These boreholes are equipped with electric pumps that draw water from the aquifers to overhead storage tanks. However, while water from these boreholes may be sufficient for drinking purposes, households often have to rely on surface water for other domestic needs.  
We saw diverse water use behaviour between and within these communities, and across seasons. In one of the communities we visited, women said that they never use river water during the dry season as it is "dirty, smelly and disgusting". However, during the wet season, when the water level rises, most of them prefer to wash and bathe in the river to avoid the hassles of collecting water and waiting in long queues. In another community nearby, we saw a number of women and children washing their dishes and clothes using the river water. The river was visibly polluted with chemicals, plastic bags and household waste. More alarmingly, there were hanging toilets just beside these water use points. Water from the small number of boreholes is sometimes used for rinsing the dishes or clothes after washing in the river.
Improving water security for these low-income communities requires measures to stop the indiscriminate discharge of untreated effluent into the river. Effluent Treatment Plants (ETPs) are mandatory under existing laws; however, such environmental regulations are poorly enforced. Lack of financial capacity or reluctance to bear maintenance and operating costs, combined with a general disregard for environmental degradation, are often the reasons behind not having or running full capacity ETPs. While reducing pollution at source may improve water quality over the long term, with positive implications on human health, ecosystems and agriculture, achieving universal drinking water security will also require new infrastructure, possibly through construction of boreholes and small piped water schemes.
The REACH programme's observatory Water security for an urban river aims to understand these hydrological and public health risks in stretches of the Turag River. We will explore how these risks, in turn, may affect industrial productivity due to avoidable illnesses faced by poorer residents of the area, particularly women working in these factories. The research will provide new models and tools for assessing the efficacy of pollution reduction initiatives at source and the impacts of different development interventions on the water security risks. Outputs will specifically enable decision-makers to prioritise investment plans to maximise returns in terms of water security risk reductions.