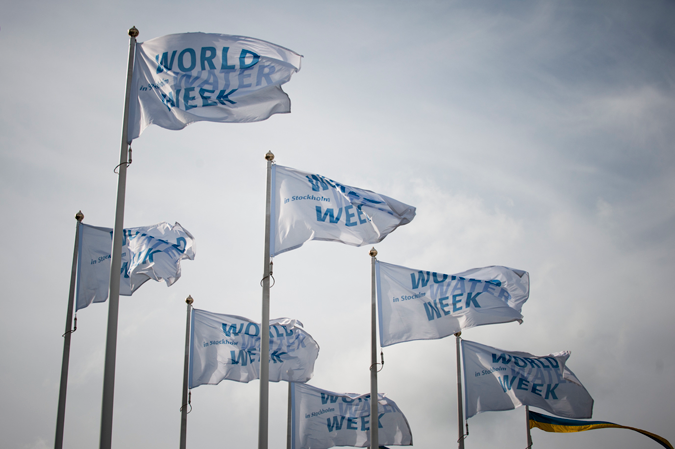 5 September 2019
How finance and institutions are shaping global water thinking
Dr Sonia Hoque, Dr Johanna Koehler, and Cliff Nyaga (University of Oxford)
This year's World Water Week in Stockholm recognised the importance of finance and institutions in shaping global priorities for water policy and practice. Of over 3,000 participants from global institutes, governments, donor organisations, international research groups and the private sector, REACH was represented in a number of sessions contributing science and evidence to debates on affordability and water payment behaviours, the role of performance-based delivery models, and rethinking institutional design to meet and sustain water security for the poor.
Understanding and measuring water affordability
While affordability is a normative criterion for SDG 6.1, existing metrics fail to capture what it really means for the poor and how governments and service providers can ensure safe, affordable and financially sustainable services for all. On the first day of the World Water Week, REACH co-convened a special session on global and national monitoring of water affordability, bringing together international organisations, academics, governments and others to explore ways to resolve methodological challenges and data gaps.
Findings from the UN-Water 2018/19 GLAAS report, presented by Fiona Gore, showed that less than half of the participating countries have national targets for affordability, with these being mostly based on percentage of income or expenditure, with large gaps between the actual and required funds for these targets. While income or expenditure ratios are currently the dominant measures of affordability, they do not capture the variation in service levels among population groups and misinterpret the lack of, or low expenditure as affordable.
Over the past two years, REACH has been involved in a global consultative process led by UNICEF to advance new methods for capturing affordability dynamics. Dr Sonia Hoque and Professor Rob Hope recently completed water diary studies in rural Bangladesh and Kenya, whereby households used structured pictorial diaries to document their water sources, amount, costs and sufficiency, along with other household expenditures, every day for a one-year period.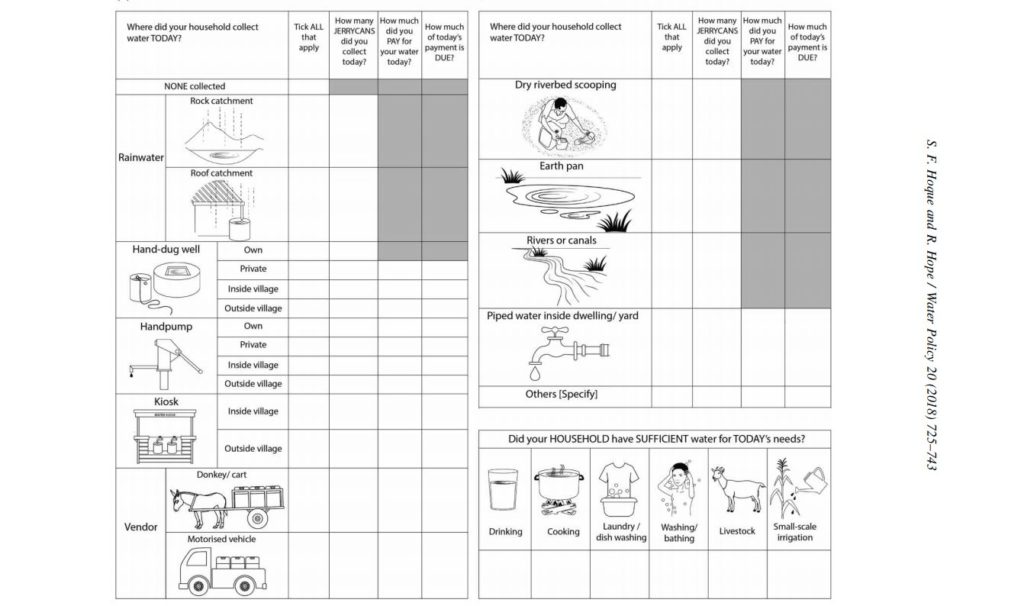 This longitudinal dataset, presented by Sonia Hoque, provide unique insights into household water use behaviour, showing significant shifts from groundwater to surface water sources after rainfall events with corresponding decrease in expenditures. Affordability measures should not only capture what people pay, but also the service they receive for that cost, and the trade-offs in water quality, quantity and accessibility that households make to cope with seasonal or unexpected payment difficulties.
Performance-based financing
On 28 August, the FundiFix model was showcased in a session on performance financing convened by GIZ, FundiFix, University of Oxford, Vergnet Hydro, Water for Good, Water Mission and Whave. FundiFix seeks to address the rural water maintenance gap and provide a model for the delivery of universal drinking water service in rural areas.
The session discussed the performance of five enterprises working in Africa and delivering maintenance services to over 1 million people. The discussion, which also included participation from the government of Uganda and donors (USAID and GIZ), centered around understanding factors contributing to the sustainability of maintenance service providers, and explored opportunities for a performance-based funding mechanism to finance reliable last mile water access for millions to 2030 and beyond. Key take-away messages included:
The need for rural water sector coordination to ensure programmes and interventions contribute to the sustainability of in-country maintenance models;
The importance of providing operation scale to maintenance service providers, linked to long-term contracts and exclusive service areas;
Funding for maintenance emerged as a key requirement for rural areas where current tariffs do not fully cover the cost of maintenance service provision, with the opportunity to develop performance based-approaches to effectively deliver such subsidies;
Technologies such as handpump sensors and water ATMs play an important role in enabling planning, efficient service delivery, and performance monitoring of maintenance service providers.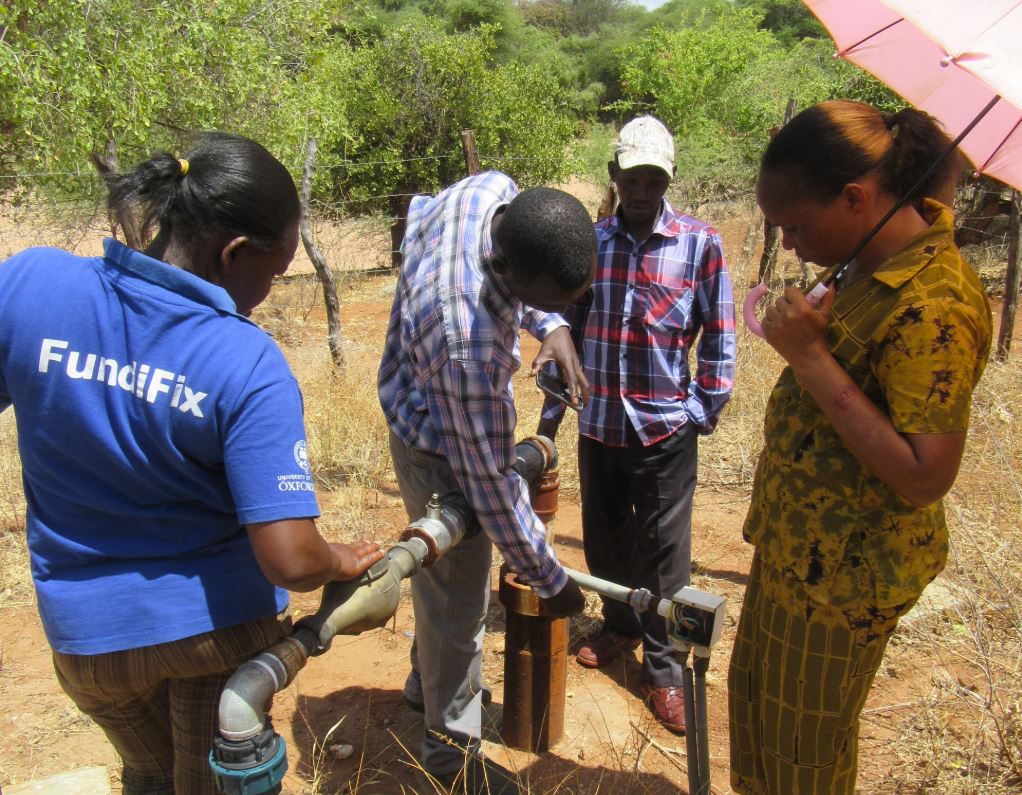 Photo credit: Rob Hope
Strengthening institutions
Institutions are critical to deliver universal water services for all. Achieving the water SDG requires adapting existing institutions as well as creating new ones.
However, the discussions in the 'Water Governance' seminar highlighted that water laws are not always tailored to water governance objectives. They may not provide an adequate enabling ground for existing institutions to effectively operate or not allow for institutional innovation where it is needed. A survey across the participants of the conference showed high levels of agreement that more transparency and regulation are required to ensure water governance objectives across water resource management and service delivery can be addressed.
These themes were also reflected upon in the session on 'performance financing for reliable last mile rural water access'. The discussion demonstrated that professional maintenance service providers across Burkina Faso, Central African Republic, Kenya, and Uganda require clear policies and institutional frameworks to operate in their respective contexts. They take on the maintenance challenge for rural water infrastructure outperforming regional functionality averages by approximately 20 percentage points. Clear institutional frameworks are essential for establishing novel financing mechanisms that allow user, donor, investor, and government funding to be blended to ensure long-term sustainability of last mile services.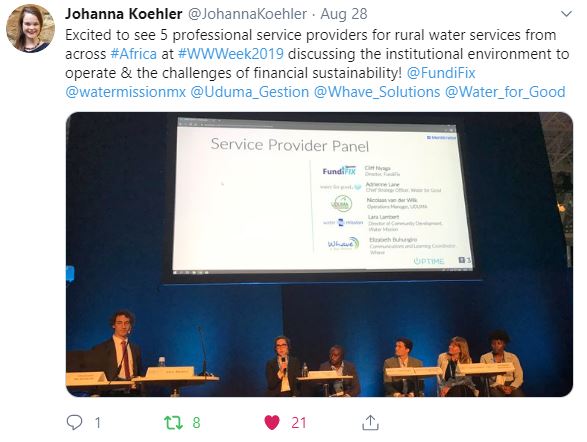 Up-scaling innovative solutions
Results from coastal Bangladesh, presented on 29 August by Sonia Hoque in the 'Innovation: Business not as Usual' session, showed that despite significant private and public investments in water supply infrastructure in the past decade, groundwater salinity continues to pose chronic drinking water challenges for those living in difficult hydro-climatic contexts with high poverty levels.
This session, convened by Water Foundry and IWA, addressed the urgency of innovation as a means of achieving SDG6, with early career researchers and practitioners presenting strategies and case studies of innovation in technology, partnerships, business models, legal aspects and financing. The panel discussion, moderated by Sudhir Murthy, highlighted the role of collaboration with diverse stakeholders in up-scaling innovative solutions.
This is what REACH is currently doing in coastal Bangladesh, through the recently launched 'SafePani' programme. In collaboration with UNICEF, the Government of Bangladesh and other partners, the 'SafePani' programme aims to design and pilot a water service management model to in rural Bangladesh, involving regulated professional maintenance service, supported by blended finance and smart monitoring of functionality and water quality.