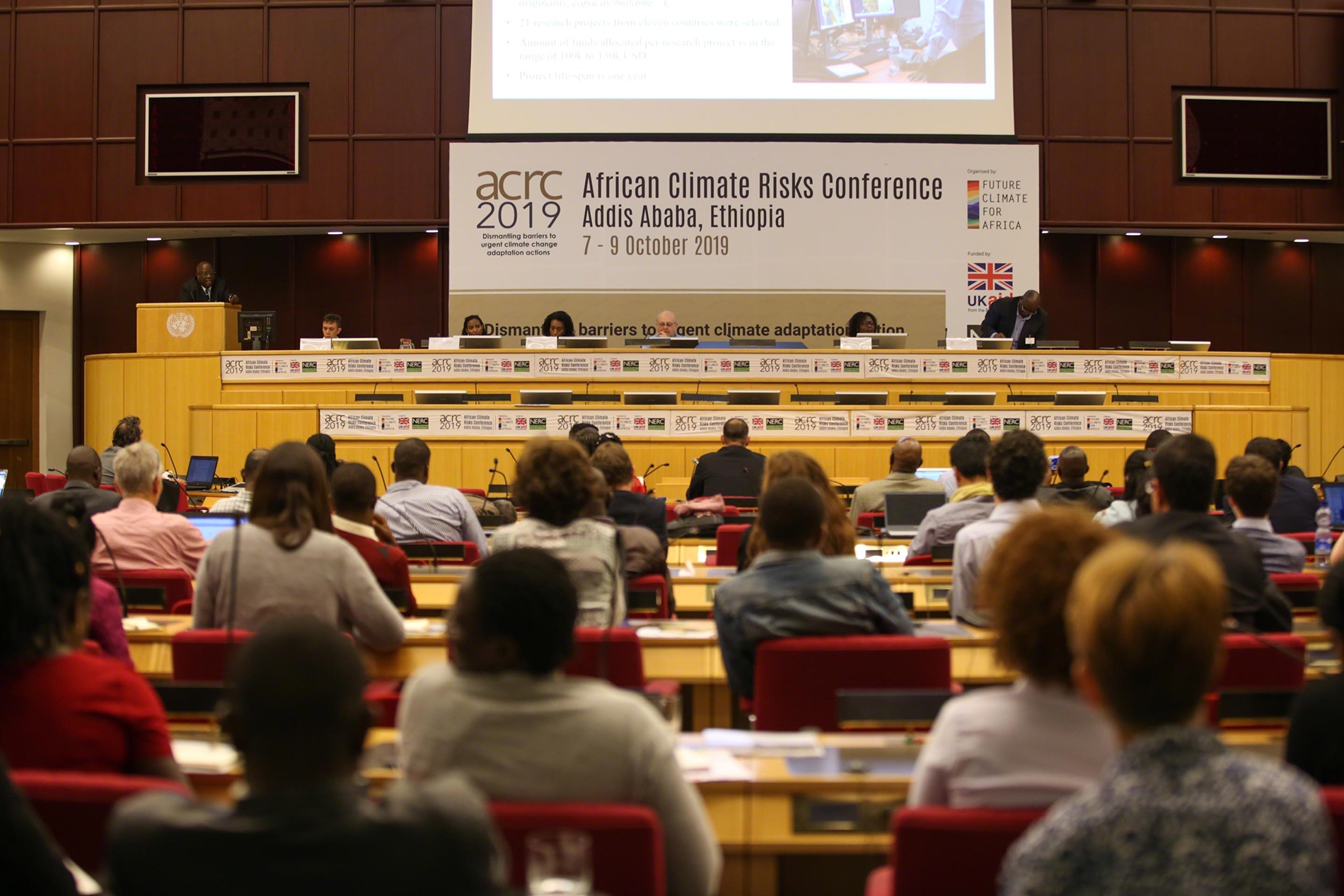 18 October 2019
How can we increase capacity for water-related climate adaptation? Lessons and opportunities from Ethiopian river basins
Dr Ellen Dyer, University of Oxford
On 7-9 October 2019, Future Climate For Africa hosted the African Climate Risks Conference in Addis Ababa, themed around dismantling barriers to urgent climate adaptation action. Along with showcasing our work on East African model evaluation, REACH hosted a panel discussion centered around understanding opportunities for increased capacity in water-related climate adaptation. We wanted to examine how collaboration works between climate science, and water practitioners along with the corresponding opportunities and barriers that exist in these relationships.

Understanding capacity gaps and finding opportunities to close them is particularly critical when incorporating climate information into work with other sectors and disciplines. The opportunity for miscommunication and failed information exchanges is high. A policymaker and climate scientist will rarely be speaking the same language or use the same tools. Both parties have to increase their understanding of the challenges and complexities that characterise each other's work.
As part of an interdisciplinary project, REACH researchers have had to continue to build their cross-sectoral capacity, improving their ability to communicate and increasing literacy between respective disciplines and ways of working. However, to foster successful partnerships, and transform REACH research into action and policy in partner countries, there are other forms of capacity that are critical.
The first is institutional capacity; the existence of working relationships between critical institutions. Formalising these relationships can make collaborations easier, with exchanges of data or expertise not becoming sinks of time and resources. Finally, technical capacity is a practical and critical factor to understand; individuals having the required technical skill sets, and appropriate physical IT infrastructure in place.

We wanted to explore these themes in the context of Ethiopian river basins, and the use of climate information in water planning. Panellists with a range of expertise were invited, with representation from the National Meteorological Agency (NMA), the Ministry of Water Irrigation and Energy (MoWIE), the Awash Basin Development Office (AwBDO), and REACH.
Several broad themes emerged from the discussion:
Collaboration between water authorities and meteorological agencies is essential, and can help close gaps in data availability. This can include provision of, and feedback on, forecasts, but also standardising data sharing relationships.
Climatological data availability is currently an issue for some users, with coarse spatial forecast representations and delayed access to forecasts. However, on the positive side, meteorologists (NMA) and water experts (MoWIE) are currently discussing how to improve data sharing which is a step towards closing this institutional gap.
Planning for climate resilience requires that all basin sectors are included at every level of the process. This is challenging at the local level in part due to the need to mobilise local sector stakeholders, but also the heterogenous climate and hazards in the basin.

Tailored hydro-climatic information is necessary. Although this kind of data is currently being generated through case by case consultation, this could be scaled up, so it is more widely available. Forecasts which take into account the risks faced by different water users (ranging from state farms, and dam managers to pastoralists) would also be helpful context. This cannot be an undertaking for the NMA alone. For this gap to be closed an iterative forecast development process would need active input from a climate perspective, MoWIE perspective, but also from the AwBDO who are keenly aware of the complex regional water users and their needs.
There is a future opportunity to increase capacity in the use of large-scale model projections for resilience planning in the long term.
The Awash river basin is a basin of extremes. The immediate need to plan for flood or drought conditions in the next season is of primary importance. For this reason, much of the interaction between water and meteorological sectors have revolved around forecasts from the sub-seasonal to seasonal scale. However, the Awash basin is rapidly developing with the relationships between industry and other water users becoming more tightly regulated. There is a need for more climate information, and projections to be incorporated into water allocation plans.

Luckily, climate modelling and evaluation is a new focus of the NMA and a priority area for capacity building within their organisation. This presents another excellent opportunity for collaboration and information exchange between the water and climate sectors. Model projections and evaluation for Ethiopia is also one of REACH's research areas, and we hope to be able to contribute to this process in the future.
Headline photo credit: Photo by IISD/ENB | Kiara Worth