Expanding supply and local demand of safe water at water kiosks in Goma, DRC through improved monitoring of information (SHIELD)
SHIELD aims to improve access to safe water for vulnerable people living in peri-urban areas and to reduce the health risks associated with drinking water from unsafe sources.
In the city of Goma in the Democratic Republic of Congo, public kiosks are an important source of water for poor people who lack access to piped household supplies. However, not all neighbourhoods have a kiosk nearby, and the price, water quality and reliability of supply is variable. Mobile water vendors meet an important gap, travelling on bikes to supply water to individuals, local businesses and communities. But these informal vendors also rely on the irregular and unpredictable water supply at kiosks.
Working in the low-income areas of Goma, SHIELD will use Information and Communications Technology (ICT) to monitor information on water supply at public kiosks, sourcing data from both low-cost sensors and from key human reports (using a free 'missed call' service). This information will be shared with mobile vendors as well as the water utility Regideso in order to strengthen the supply chain of safe water to communities who rely on these public facilities and help the water utility provide a better service.
This project is one of twelve Catalyst Projects funded through our Partnership Funding.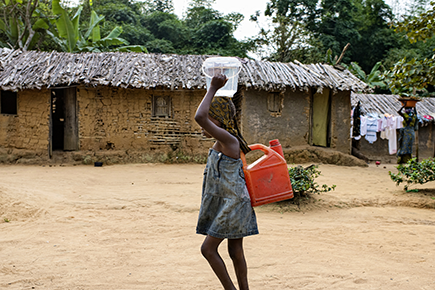 Dates
August 2016 – October 2017
Country
Democratic Republic of Congo
Organisations
SeeSaw
Humanitarian Assistance for Development NGO