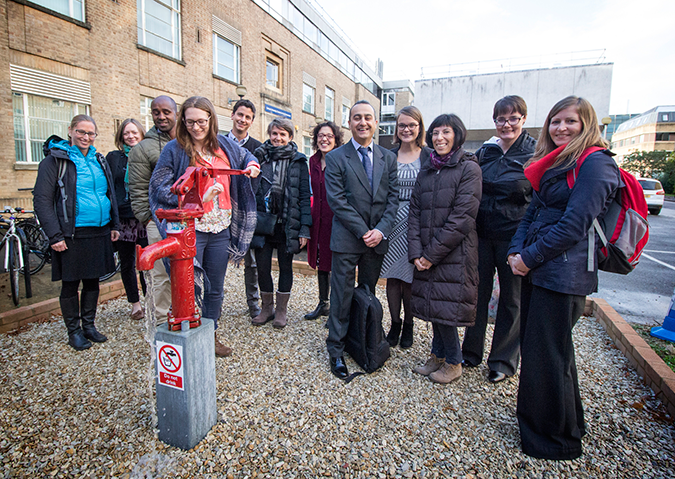 24 October 2016
Why there's a handpump in an Oxford car park
A crowd gathered at Oxford University's School of Geography and the Environment on 17 October to find out about the peculiar looking red handpump in the car park. The so-called 'Smart Handpump' is part of a bold research initiative that connects novel technology, computational informatics, institutional design, sustainable finance and policy reform, to improve poor people's access to safe, reliable water.
Lack of finance for maintenance keeps Africa behind
A staggering 270 million rural Africans still live without access to safe water. Over $1 billion per year is needed just to maintain Africa's existing rural water supply infrastructure. Government and donors commonly finance and build new infrastructure, before handing it over to the users who are expected to manage and maintain it. But the reality is that rural Africans seldom pay regularly for water. And when finance dries up, broken infrastructure doesn't get fixed and waterpoints are left abandoned.
'If we're serious about meeting the Sustainable Development Goal for water then financial sustainability must be addressed', said Dr Rob Hope of Oxford University. It's also essential that solutions that can be implemented at scale – a handpump by handpump approach isn't going to deliver universal access to water by 2030.
The birth of the Smart Handpump
The Smart Handpump story started in Zambia back in 2010 when Oxford University researcher Patrick Thomson wondered: what if a handpump could tell you if it was working or not? He designed a simple and low-cost accelerometer which is fitted to the handpump handle and measures its movement and subtle vibrations. The device sends data through the mobile phone network which means it can be monitored remotely. Not only can the Smart Handpump tell you if it's working, but the data is proving useful in a number of ways.
First, the handpump provides hourly data on water usage.
Second, researchers at the Department for Engineering Science are using machine learning techniques to detect deterioration of pump mechanics and actually predict failure before it happens. This could enable predictive maintenance and result in uninterrupted handpump services.
Lastly, it was by surprise that the researchers discovered they could model the data to estimate the depth of the groundwater below the pump.
From data to decisions
Successful implementation of Smart Handpumps in in two counties in Kenya (Kwale and Kitui) has led to the creation of a professional maintenance company Fundifix Ltd ('Fundi' means 'mechanic' in Swahili). The company receives data from over 300 community handpumps serving over 50,000 rural Kenyans and has reduced the downtime of broken pumps from over 30 days to less than 3 days.
Connecting multiple waterpoints into one network for maintenance improves services and reduces cost.
Performance-based finance
Handpumps typically don't break down often, but when they do repairs can be expensive. To prevent water users being hit with a large bill, the Fundifix model requires them to pre-pay monthly with mobile money. In return they are guaranteed a high quality service.
But user payments alone will never be enough to cover full operation and maintenance costs, especially in poor rural areas.
A Water Services Maintenance Trust Fund has been set up to pool additional finance from government and investors. Crucially, the Trust Fund only releases finance to the maintenance company if agreed performance indicators are met, such as rapid repair, collection of user payments, water quality monitoring and sound financial management.
Mobile communications allow information about handpump functionality and payments to be monitored easily and cheaply.
This performance-based approach has been successfully trialled in parts of Kwale and Kitui counties, and the next step is scaling up county-wide, and expanding beyond handpumps to include all types of rural water infrastructure, including piped systems.
The Smart Handpump travels to Asia
While the research to date has focused on Afridev pumps in Africa, the pump outside the School of Geography and the Environment is a Samrat from Bangladesh. Researchers are analysing data from this different type of pump, to ensure their models are robust enough to work across different types of handpumps.
As part of our research on universal drinking water security in Bangladesh, we plan to install transmitters on handpumps in the rural area of Matlab Bazaar in order to understand water use and support the government's coordination, investment and delivery of water services.
From Kenya to Bangladesh and beyond, by equipping government, communities and investors with better information and monitoring systems, they can work together to keep water flowing in communities, schools and clinics.
See the presentation from the handpump launch event