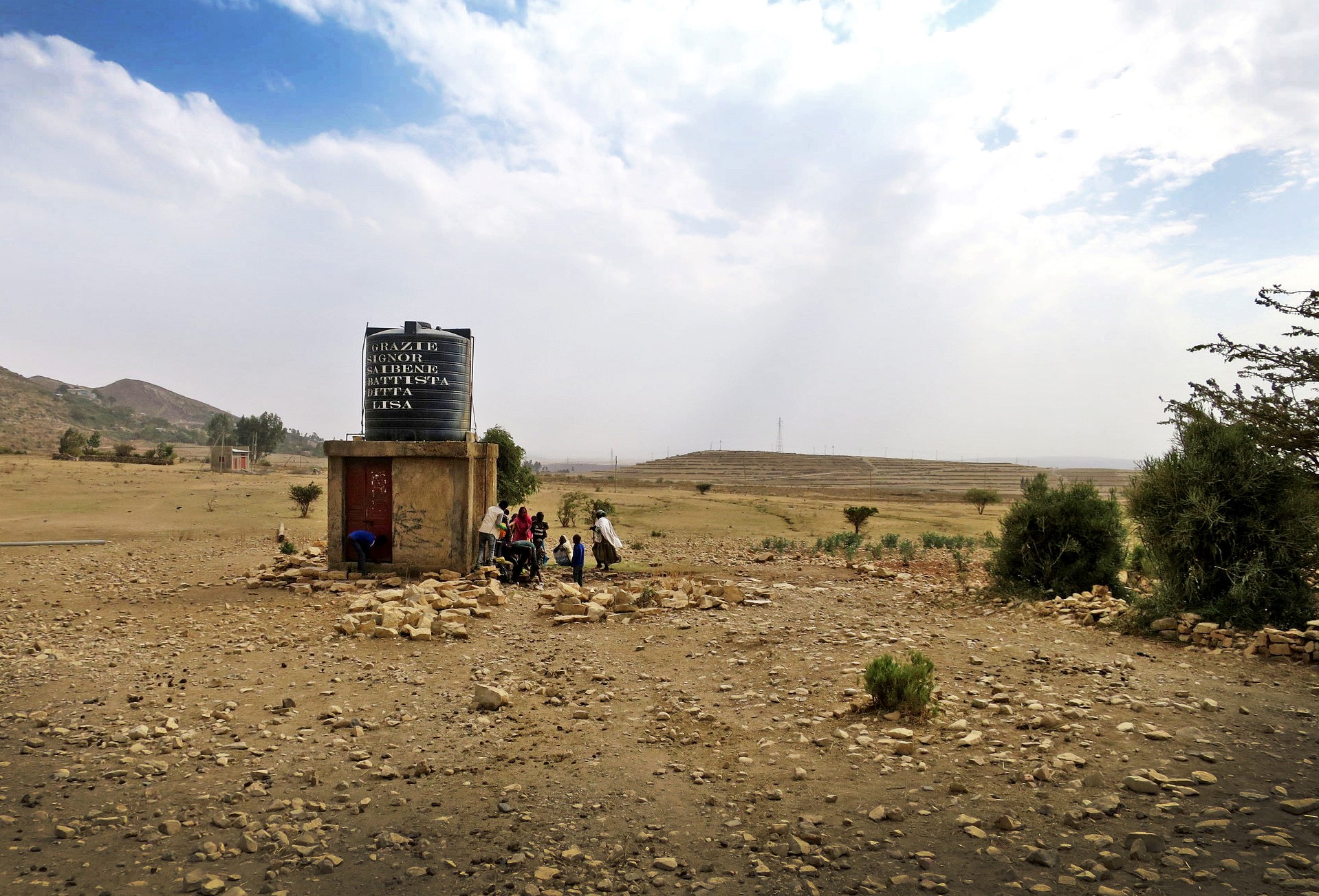 29 May 2018
Three grants awarded to explore inequalities, gender and marginalisation issues in Bangladesh, Ethiopia and Kenya
The Exploring Inequalities grants, funded through our REACH Partnership Funding, aim to co-build knowledge on socio-economic inequalities and marginalisation issues, with a focus on gender and disability in three of our eight Observatories: Dhaka (Bangladesh), Wukro (Ethiopia), and Kitui (Kenya).
A total of £150,000 has been awarded to three teams in each country (£50,000 each) until April 2019 to deliver the projects.
You can read about each of the projects below:
Public lives, private water: a study of gender, water and empowerment among Ready-Made Garment women workers in Dhaka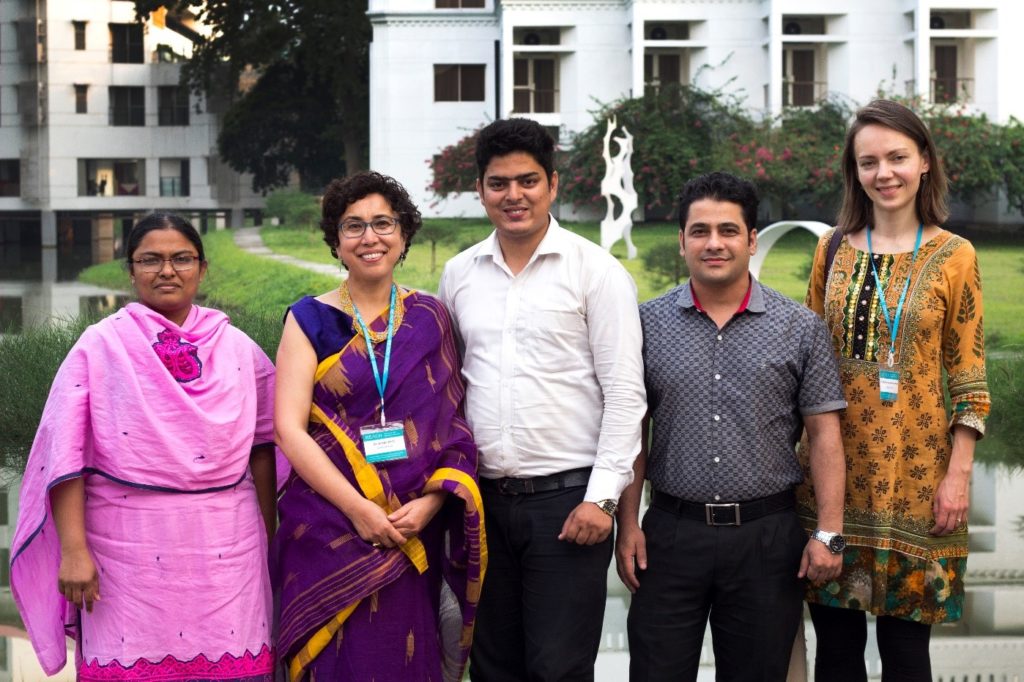 The team leading the Exploring Inequalities study in Dhaka, Bangladesh (left to right: Prof Sadika Haque, Dr Deepa Joshi, Sahed M Khan, Rasel Hussain, and Dr Marina Korzenevica-Proud)
Study Site: Dhaka, Bangladesh
Research Institutions:
Centre for Agroecology, Water and Resilience, Coventry University, UK
East-West University, Dhaka, Bangaldesh
Department of Agricultural Economics, Bangladesh Agriculture University
Institute of Water and Flood management, Bangladesh University of Engineering and technology
This study will explore the gender and water interrelations within the Ready-Made Garment industry (RMG). The RGM industry is the country's largest export sector and employs over 4 million people, 80% of which are women. On the one hand, this mass employment of women is thought to have contributed to women's empowerment through increased autonomy and greater bargaining power at home and in the work place. However, it is unclear whether this has translated into women gaining a better position in terms of water access, use, governance and management. In this light, the research team will study how women workers experience and exercise their relative empowerment in navigating the contested waterscape and negotiating gendered (water) roles, responsibilities and identities.
The dynamics of water access, water use, and governance in Wukro Town, Ethiopia: a community perspective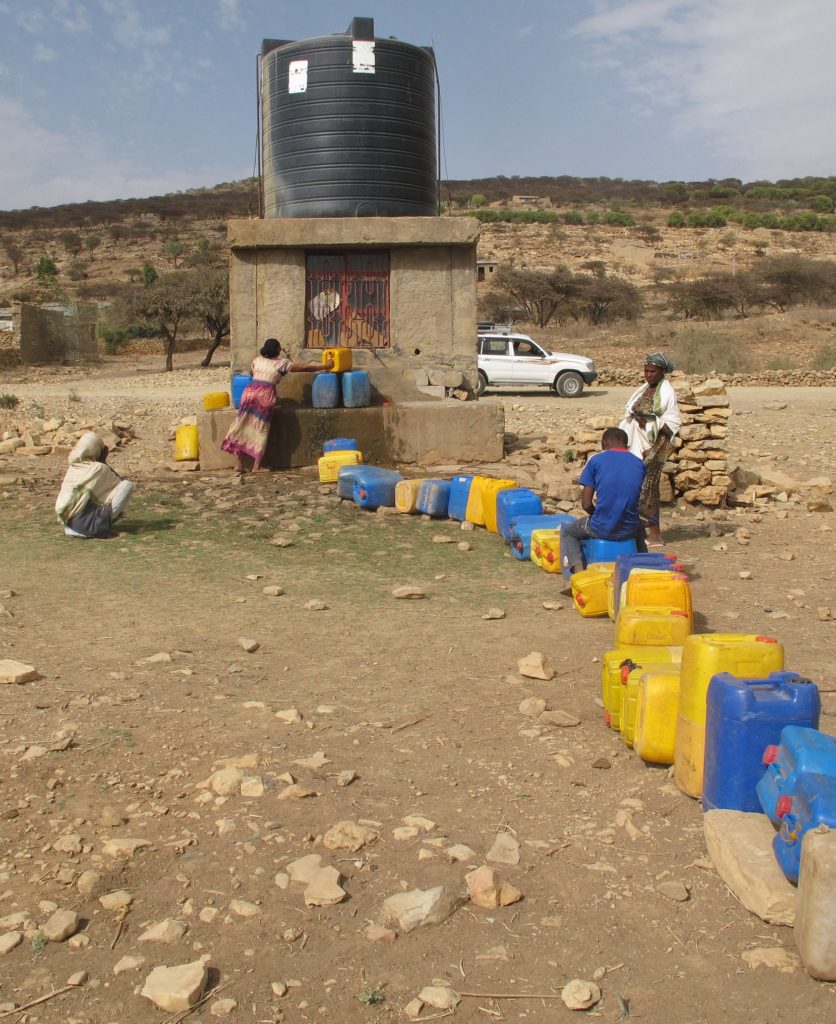 Long wait for water collection are common near Wukro, Ethiopia
Study Site: Wukro, Ethiopia
Research Institution:
College of Social Sciences and Languages, Mekelle University
Wukro is a rapidly developing small town of 43,000 people located in the drought-prone highlands of Tigray region, Ethiopia. The town has a piped water supply that frequently malfunctioned. That, in combination with the low availability of groundwater, has resulted in the majority of town residents struggling to even get a minimum of 20 litres of water per day. The development of a new source of water (groundwater-fed) in Abreha and Atsbeha, which operations started in May 2018, and modernisation of the piped water supply system are promising – but how sustainable? Women who use water for productive purposes may be particularly subject to income inequality. Many young women migrate from the village to the town wishing to reach economic independence through running a small scale business that highly depends upon access to water. These women often end up renting a house without a water provision, with the result of them having to buy water from multiple sources at higher prices. The study, led by Mekelle University, will explore water-produced vulnerabilities, primarily but not exclusively for women, and adaptive strategies to cope with water related challenges. Specifically, the research team will seek to understand how reliance on domestic water sources for income generating activities influences power structures within the community, in particular investigating the role of women who develop their small domestic enterprise for the town's economy.
Gender analysis of vulnerability and resilience to household water insecurity in Kitui County, Kenya: implications for institutional and policy response in the face of climate variability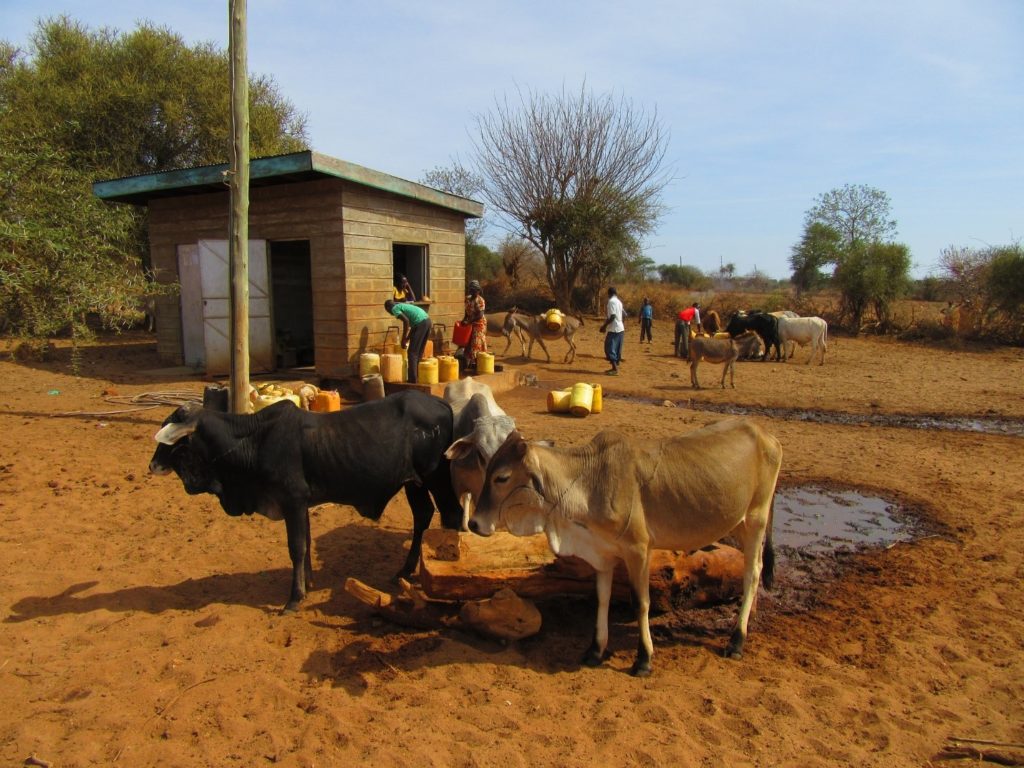 Daily water collection at a rural kiosk, Kitui, Kenya
Study Site: Kitui, Kenya
Research institution: Institute of Anthropology, Gender and African Studies, University of Nairobi
Kitui is a semi-arid region characterised by unreliable rainfall and periodic severe droughts (2004-2005 and 2017). The county is home to around one million people and the population is predominantly rural with two out of three households classified as 'poor'. High poverty levels are compounded by profound gender inequalities, with Kenya ranking 146 (out of 187) in the Gender Inequality Index. Previous studies have been addressing physical aspects of household water insecurity alongside the innovative solutions to water supply and management. Nevertheless, interventions spurred many questions, particularly in relation to socio-cultural dimensions and implications of particular forms of water governance. This study will use an ethnographic approach to institutional analysis to explore formal and informal practices of water governance and management. It will also aim to develop a gender-sensitive analysis on water related vulnerability and household insecurity. This will lead to a better understanding of cultural factors in water security and help inform inclusive and sustainable water supply, governance and management models
Next week, 4-7 June, the Exploring Inequalities Grant teams from each country are coming to Oxford to attend a REACH workshop where they will be presenting an overview of the work they will be leading in each Observatory.
If you have any questions, please contact the Exploring Inequalities Grants Manager Dr Marina Korzenevica-Proud marina.korzenevica@ouce.ox.ac.uk;