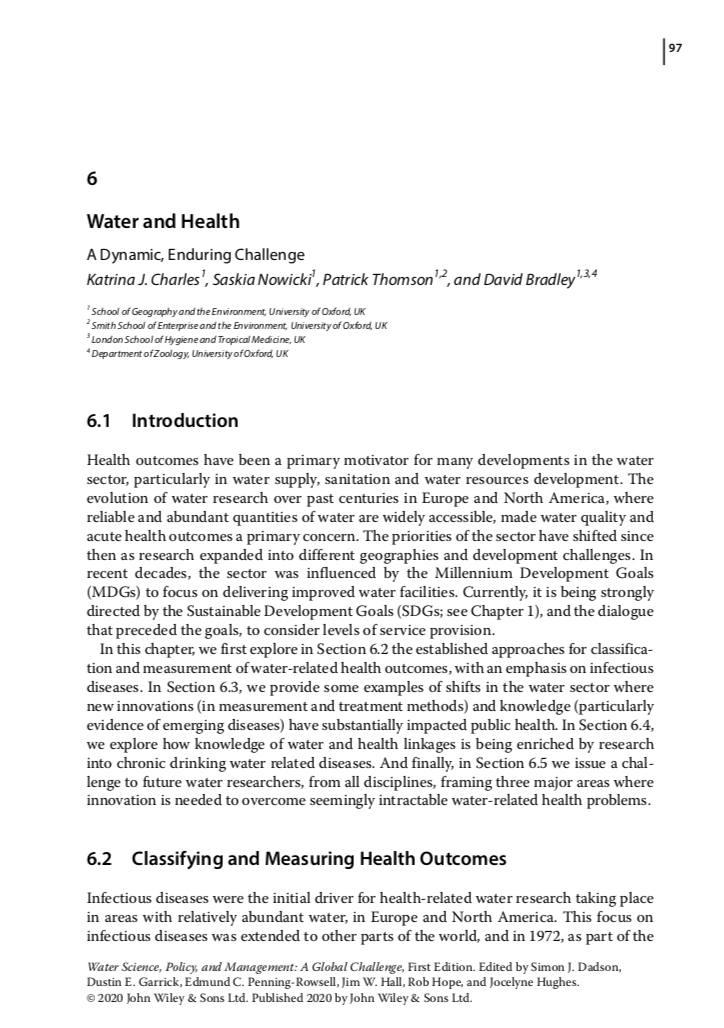 Authors: Katrina J. Charles, Thanti Octavianti, Erin Hylton, and Grace Remmington
Urban water security is critical in securing the economic development promise of urbanization. Urbanization can be a driver of growth and development. However, this relies on overcoming issues of marginality and exclusion, and managing water security during a process commonly associated with environmental degradation, unmanaged expansion and the concentration of risk.
This chapter explores water security in the urban space, and the interrelations between the Sustainable Development Goals (SDGs) for water and for cities. They authors draw from their research in megacities (Jakarta, Indonesia, and São Paulo, Brazil) to explore the trade‐offs in urban water security, with a particular emphasis on equity of outcomes.
This book chapter was published in 'Water Science, Policy and Management: A Global Challenge', edited by Simon James Dadson, Dustin E. Garrick, Edmund C. Penning-Rowsell, Jim W. Hall, Rob Hope, Jocelyne Hughes and published by Wiley.
Kelly Ann Naylor, Associate Director, Water, Sanitation and Hygiene (WASH) Section, Programme Division, UNICEF
'Our partnership with REACH recognises science has a critical role in designing and delivering effective policy and improving practice on the ground.'
Stay in touch
School of Geography and the Environment
University of Oxford
South Parks Road
Oxford, OX1 3QY