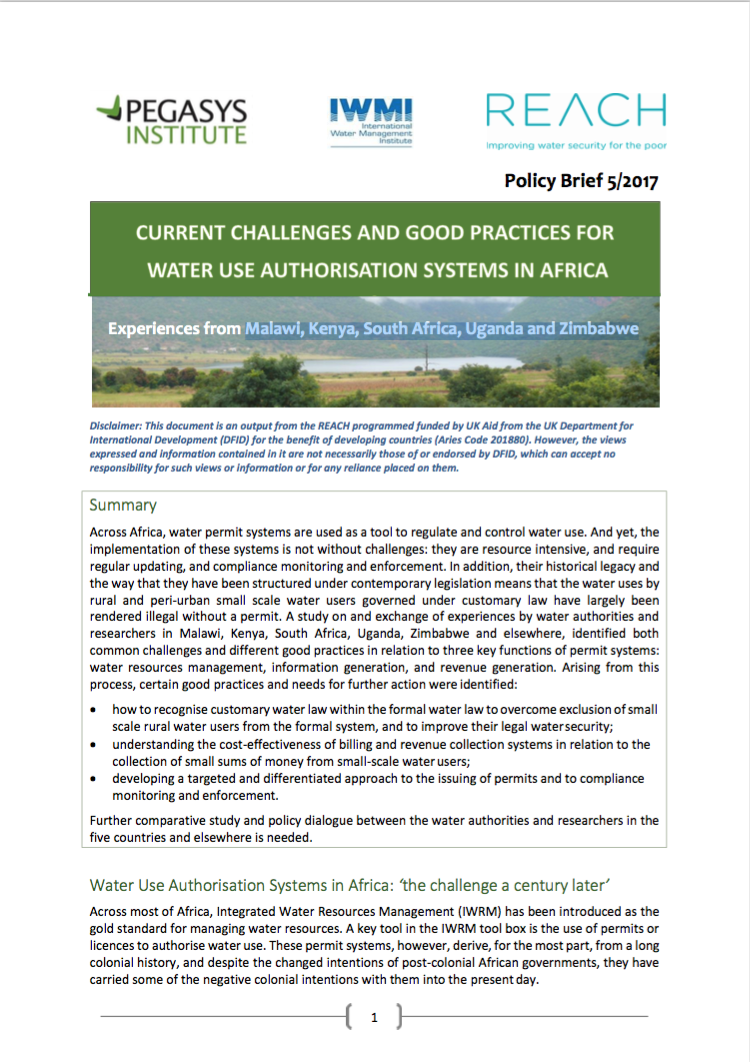 Across Africa, water permit systems are used as a tool to regulate and control water use. And yet, the implementation of these systems is not without challenges: they are resource intensive, and require regular updating, and compliance monitoring and enforcement. In addition, their historical legacy and the way that they have been structured under contemporary legislation means that the water uses by rural and peri-urban small scale water users governed under customary law have largely been rendered illegal without a permit. A study on and exchange of experiences by water authorities and researchers in Malawi, Kenya, South Africa, Uganda, Zimbabwe and elsewhere, identified both common challenges and different good practices in relation to three key functions of permit systems: water resources management, information generation, and revenue generation. Arising from this process, certain good practices and needs for further action were identified:
how to recognise customary water law within the formal water law to overcome exclusion of small scale rural water users from the formal system, and to improve their legal watersecurity;

understanding the cost-effectiveness of billing and revenue collection systems in relation to the collection of small sums of money from small-scale water users;

developing a targeted and differentiated approach to the issuing of permits and to compliance monitoring and enforcement.
Further comparative study and policy dialogue between the water authorities and researchers in the five countries and elsewhere is needed.
Kelly Ann Naylor, Associate Director, Water, Sanitation and Hygiene (WASH) Section, Programme Division, UNICEF
'Our partnership with REACH recognises science has a critical role in designing and delivering effective policy and improving practice on the ground.'
Stay in touch
School of Geography and the Environment
University of Oxford
South Parks Road
Oxford, OX1 3QY