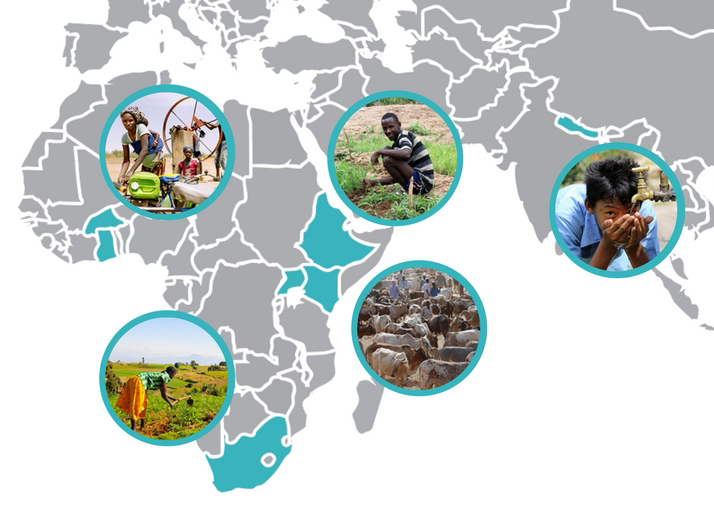 2 November 2017
Five grants awarded to REACH Catalyst projects to expand their work in Africa and Asia
Around £800,000 in funding has been awarded through our Partnership Funding to five Catalyst projects to expand their work as part of the REACH programme. In 2016 twelve projects were successfully awarded a Catalyst grant to explore novel approaches to water security and poverty research and policy that complement the core research conducted by the REACH programme. The Accelerated grants build on the successes delivered through the Catalyst grants and will continue to contribute to the REACH programme's aim to improve water security for five million poor people.
Dr Katrina Charles, REACH Co-Director said: "We are thrilled to pursue our engagement with these teams. The excellent work delivered through our catalyst projects has already made important contributions towards improving water security for the poor. They have been developing new or complementary approaches, tools and technologies that span beyond the core REACH programme of work, while engaging with key policy, practice and enterprise stakeholders to promote research uptake. As the projects approach their final phase, we look forward to receiving and sharing their outputs."
Five projects were awarded additional funding. The projects, spanning seven countries in Africa and Asia, will run  between October 2017 and March 2019. You can read about each project below:
Gendered Dimensions of Water Security Risk in the Context of Climate Variability, Sedentarisation and Institutional Pluralism for Pastoralist Households in Northern Kenya
Organisation: Centre for Humanitarian Change (CHC); Northern Rangelands Trust; Rural Focus Ltd
 Country: Kenya
 Pastoralist communities in Northern Kenya face increasing water security risks attributable to disruptions in their hydro-climatic and socio-ecological environments. Sedentary pastoralists, women and children are most vulnerable to spatial-temporal variations in water availability. This vulnerability is exacerbated by embedded power relations within existing socio-cultural and water governance systems. The Catalyst grant study found subjective evidence that women with diversified livelihoods and social capital are more resilient to water stress. The Accelerated project will build on these findings aiming to provide empirical evidence on factors behind water security and factors that enhance resilience for vulnerable pastoralist communities.
Establishing a Drinking Water Security Strategy for Mid-Western Nepal
Organisations: EAWAG; HELVETAS
Country: Nepal
The study aims to achieve inclusive drinking water services in rural communities throughout Mid-Western Nepal, where water-related disease burden is among the highest nationwide. Activities as part of the Catalyst grant included the installation of field laboratories equipped for microbial and chemical analysis, training local staff in sampling and data management, and establishing a flexible mobile network for data management. The Accelerated project will broaden the scope of the Catalyst project by strengthening activities to include source conservation, chlorination of piped supplies, and a systematic evaluation of water quality, user experience and health. The project will also extend the geographic focus of the water safety interventions from two to five districts.
Water Security Risk Science: Local Knowledge for Participatory Resource Management
Organisations: Newcastle University; International Water Management Institute
Country: Ethiopia
Land degradation is a major cause of Ethiopia's low and declining natural resource and agricultural productivity, persistent food insecurity, and rural poverty. This study aims to demonstrate water security for the poor can be improved through sustainable land management (SLM) interventions at community or micro-watershed scales. The focus of the Catalyst project to-date has been on participatory monitoring at community scale as an approach to enhancing climate and hydrological monitoring, particularly for shallow groundwater. The Accelerated project will advance a methodology for monitoring the impacts of watershed management interventions using selected indicators of hydrological performance, and will develop a tool for targeting SLM interventions that increases groundwater recharge. The project will also aim to consolidate community engagement through a gender inclusive approach.
Water Law Reform to Improve Water Security for Vulnerable People in Africa
Organisations: Pegasys Institute; International Water Management Institute
Countries: Kenya, Uganda and South Africa
Across Africa, water law reforms have introduced new statutory permit systems with fees tied to permits, to govern the allocation of water resources.  However large numbers of small-scale water users, especially women, are unable to access the formal permitting system, and therefore have less legal protection than large users with permits. The study explores how to transform permit systems to enhance regulatory efficiency and protect the most vulnerable. Expanding on the work achieved through the Catalyst grant, the Accelerated project will aim to understand pathways to achieving more effective pro-poor water abstraction regulation, and to decolonise permit systems to ensure legal protection of the most vulnerable.
Empowerment of Vulnerable People to Address Household WASH Security Risks
Organisations: Stockholm Environment Institute; IRC WASH; Queen's University
Countries: Burkina Faso and Ghana
In Western Africa, women are responsible for collecting and managing water but have less influence in decision-making processes around water management. This makes them especially vulnerable to changes in water quantity and quality. The Catalyst Grant assessed women and men's vulnerability to water, sanitation and hygiene (WASH) security risks in Burkina Faso. It found that disempowerment can limit coping and adaptive strategies to deal with a range of risks to household water security. This Accelerated grant will build on previous research to develop and pilot an innovative survey-based index to measure empowerment in the WASH sector in Burkina Faso and Ghana.