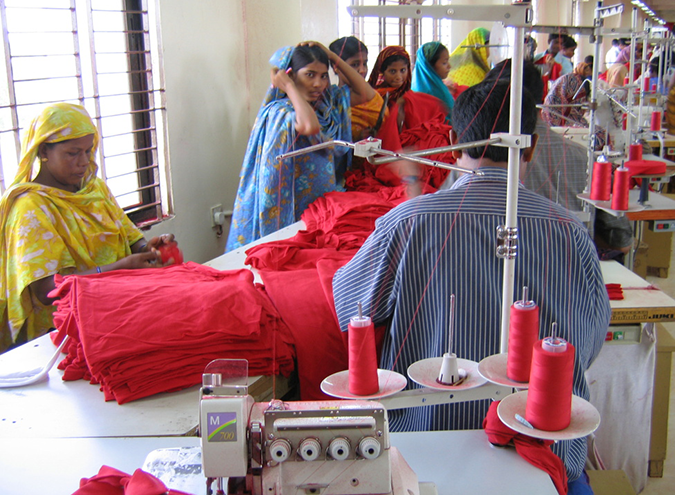 29 April 2016
Can cleaner rivers help Dhaka's poor?
Dhaka has experienced remarkable industrial growth and human development over the last decade, lifting millions out of poverty but putting its rivers under significant stress. Like other Asian mega-cities, maintaining growth and development will depend on protecting its water ecosystems that supply water to industry, communities and agriculture.
The Government of Bangladesh is leading a number of initiatives to improve Dhaka's water security with partners from the public and private sector. In the REACH programme we're exploring complementary and novel ways to use science to support more effective policy and practice.
One industry already engaging in this work is the Ready Made Garment (RMG) sector. With plans to double annual revenue to $50 billion by 2021, it relies heavily on protecting the river systems and its workers who live by the rivers. The industry contributes around three quarters of Bangladesh's foreign export earnings and employs four million people, who are mainly women. Future growth will likely provide employment for another two million workers by 2021, the year Bangladesh celebrates its 50th anniversary of independence.
Bangladesh is like many other Asian countries which has benefited from rapid growth in the complex supply chain of garment cutting, dying, washing and finishing. Few of the global brands where we buy our clothes which are 'Made in Bangladesh' actually own the 1,400 odd factories around Dhaka. But they recognise they have a part to play in improving water security working with other industries, government and civil society groups.
On 15 April Oxford University's Begbroke Science Park hosted a science-industry event to identify shared interests in a sustainable garment industry, which benefits business, the environment and poor people. The event brought together REACH partners Oxford University and the Bangladesh University of Engineering and Technology, along with global clothing brands: GAP Inc., Primark, George at Asda, Marks and Spencer, and Tesco.
Professor Ian Thompson and colleagues at Oxford University's Department of Engineering Science shared early results of a novel biosensor technology developed to assess the toxicity of water samples from Bangladesh. The technology could be used by factories as a quick and cheap way of evaluating the effectiveness of their wastewater treatment methods, or to develop a water quality monitoring network across the river system.
 'A bacterial biosensor is an example of synthetic biology', explains Dr Wei Huang, Associate Professor at the Department for Engineering Science. 'We've engineered bacterial cells to "glow" in the presence of environmental pollutants and the intensity of the glowing light is proportionate to the level of contaminants.'
REACH's work in Bangladesh will go beyond 'problem detection' to find out what interventions are needed to reduce water risks to ecosystems, industry and communities. That's the focus of our Water Security for an Urban River Observatory being set up in Dhaka. We'll be using hydrological modelling to better understand how different pollutants mix and move through the river system, and exploring impacts on health and poverty, to help determine the most effective institutional and policy responses.
Cleaning up Dhaka's rivers will require navigating a complex maze of stakeholders. Only with the Government of Bangladesh, global brands, chemical suppliers, production factories and communities on board, is there hope for a more water secure future for Dhaka, its people and its rivers.